>>>  Nº 17 on My 2015 Reading Challenge – A book a friend recommended <<<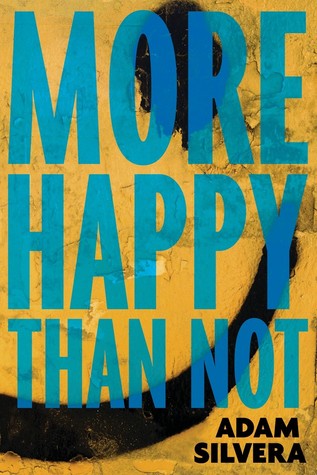 In the months after his father's suicide, it's been tough for 16-year-old Aaron Soto to find happiness again–but he's still gunning for it. With the support of his girlfriend Genevieve and his overworked mom, he's slowly remembering what that might feel like. But grief and the smile-shaped scar on his wrist prevent him from forgetting completely.

When Genevieve leaves for a couple of weeks, Aaron spends all his time hanging out with this new guy, Thomas. Aaron's crew notices, and they're not exactly thrilled. But Aaron can't deny the happiness Thomas brings or how Thomas makes him feel safe from himself, despite the tensions their friendship is stirring with his girlfriend and friends. Since Aaron can't stay away from Thomas or turn off his newfound feelings for him, he considers turning to the Leteo Institute's revolutionary memory-alteration procedure to straighten himself out, even if it means forgetting who he truly is.

Why does happiness have to be so hard?
(A book recommended by a "friend" is just a way to put it… actually who recommended this book was Becky Albertalli, author of Simon Vs. The Homo Sapiens Agenda on her Twitter!!! But I'm just going to roll with it…)
Ok, I'm not even sure where to start with this book… it took me a big by surprise, in a good and bad way… I'm being vague here! I'll try to do better.
I found the beginning of the book kind of slow, and I wasn't truly understanding the great reviews that came along with the book at that point, because the writing so far was good, but the story itself was nothing spectacular. But then it all changed.
There's a twist, you see… the blurb only tells you the setup, but doesn't prepare you for the reality of what actually happens to Aaron when he's pondering if he should go to Leteo. That moment will break you, Goddamnit, it broke me so completely, and from then to the end I was totally numb, crying without actually noticing and unable to put the book down.
This book is GUT WRENCHING! Don't be fooled by the title, sure you might at some point of it feel more happy than not, you will come to terms to what happened, but it was not OK! None of it was OK!
It deals with such important issues as homosexuality, lack of living conditions, homophobia, extreme violence, and the realization that whatever your sexual orientation is, it is not changeable and it is not forgettable. You are who you are, and you can only be happy when you're ok with you are!
Don't be fooled by the title, this is no happy story, definitely no happy ending, the guy doesn't get the guy and a lot of bad stuff happens… but you should definitely read it! This was me by the end of it…
Enjoy 😉
Rating: 4.5 Stars