>>>>  Nº 5 on My 2015 Reading Challenge – A book with numbers in the title <<<<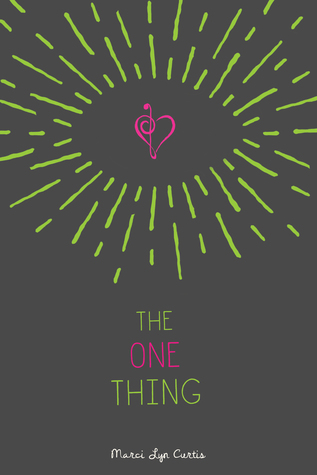 Maggie Sanders might be blind, but she won't invite anyone to her pity party. Ever since losing her sight six months ago, Maggie's rebellious streak has taken on a life of its own, culminating with an elaborate school prank. Maggie called it genius. The judge called it illegal. 

Now Maggie has a probation officer. But she isn't interested in rehabilitation, not when she's still mourning the loss of her professional-soccer dreams, and furious at her so-called friends, who lost interest in her as soon as she could no longer lead the team to victory. 

Then Maggie's whole world is turned upside down. Somehow, incredibly, she can see again. But only one person: Ben, a precocious ten-year-old unlike anyone she's ever met. Ben's life isn't easy, but he doesn't see limits, only possibilities. After awhile, Maggie starts to realize that losing her sight doesn't have to mean losing everything she dreamed of. Even if what she's currently dreaming of is Mason Milton, the magnetic lead singer of Maggie's new favorite band, who just happens to be Ben's brother. 

But when she learns the real reason she can see Ben, Maggie must find the courage to face a once-unimaginable future…before she loses everything she has grown to love.

Pub Date: Oct 1, 2015 by Disney Book Group
I received an eArc from the publisher through Netgalley in exchange for an honest review.
---
HOLY CRAP!!! I was not quite expecting this! This book is SO GOOD!!!! This book has been on my TBR for over 3 months now, so when I saw it for request at Netgalley, I asked for it – obviously – and then I got approved (hurrrayyy!!!!!). Happy me. I picked up my Kindle while I was waiting for my computer do wake up or something, and I was just going to read the first page – you know, to get the feeling of the book – and when I realized I was two chapters in and laughing like crazy.
The writing is amazing, it flowed well between scenes and even when Maggie was remembering a past event, it only added to the understanding of a situation and never took away from the present moment. I loved how the scenes between "sighted Maggie" and "blind Maggie" differed, not wholly because it's the same person, but the way she experiences things is different, and it was well reflected in the lines.
Maggie… oh wow! I love Maggie! Seriously, her sarcasm got me hooked on this book. She's so strong, even when she's just giving up (you'll get it when you read it). I loved her character development, after all, this is what the book is about, how to find that you're more than just one thing… Maggie is much much more. I also loved that she read like a "normal" teenager… I mean, between all the troubles and deep emotional problems, she still couldn't say "penis" without laughing a little… come on!
Ben! WOW! Ben! Everytime he was talking, I was smiling… damn kid! I love him. I love how he's not beat down by any of the various sh***y things that happen to him. I love that he smiles, that he sees the best in people. I love that he's wise beyond his very little years. Ben also made me cry the most… oh the "Qs"!!!
Mason Milton, oh wow, I didn't expect to like him so much at the beginning, when he was being so cold towards Maggie. But then, after knowing the why, my heart – much like Maggie's – melted completely. By the time they finally exchange a few words, I was shipping them like crazy!
But better than each character on their own, are their relationships. Ben and Maggie's friendship is the cutest thing ever. The Doritos and video games… how Ben taught Maggie to want to be her again… EPIC! Mason and Ben's sibling relationship was equally great, Mason's protectiveness of his little brother could be read in between the lines of every scene. And Mason and Maggie… oh well, see the GIF above!
I loved the plot, with it's twist of "supernatural", and it totally broke me when I realized the "why" Maggie could see Ben, and why she kept seeing him better and better each day that went by. It's really how you deal with life when it throws you a curved ball…
I'm totally in love with this book! As soon as I finished it, I wanted to go back to the beginning and read it again – alas, I couldn't because I'm in the middle of a read-a-thon and I want to get more books in. But I will read it again soon, and I will also get a physical finished copy of this book, because I love it so much! It's on my Top 5 of books of this year! I highly recommend it!!
Also, Marci Lyn Curtis s so nice, she actually replied me twice to my tweets!!! Oh happy day!
Rating: 5 Stars
*** 1st book on the Bout of Books 14 Read-a-thon***