>>>>  Nº32 on My 2015 Reading Challenge – A Trilogy #1  <<<<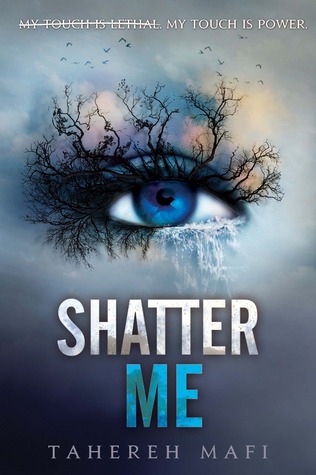 I have a curse
I have a gift

I am a monster
I'm more than human

My touch is lethal
My touch is power

I am their weapon
I will fight back

Juliette hasn't touched anyone in exactly 264 days.

The last time she did, it was an accident, but The Reestablishment locked her up for murder. No one knows why Juliette's touch is fatal. As long as she doesn't hurt anyone else, no one really cares. The world is too busy crumbling to pieces to pay attention to a 17-year-old girl. Diseases are destroying the population, food is hard to find, birds don't fly anymore, and the clouds are the wrong color.

The Reestablishment said their way was the only way to fix things, so they threw Juliette in a cell. Now so many people are dead that the survivors are whispering war – and The Reestablishment has changed its mind. Maybe Juliette is more than a tortured soul stuffed into a poisonous body. Maybe she's exactly what they need right now.

Juliette has to make a choice: Be a weapon. Or be a warrior.
---
Even though everyone had already read this book but me, I still had no idea what the story was all about – yes, I did not read the blurb, on purpose, I trusted that it would be good!
I am in love with the writing! So damn in love with it. So I'll warn you right now that there will be a lot of quotes in this very short review, that's how gorgeous the writing is. This month has been a treasure in terms of unique books, first The Wrath and the Dawn, and now this?! WOW!
I'm so intrigued by Juliette! Truly, how sane would anyone be if you couldn't touch anyone? I would go mental. Parents not wanting you… wow…I felt so sorry for her. Also, she's just like Rogue from the X-Men, so I immediately loved her. Plus, her internal dialogue is amazingly beautiful.
I mean, it's just so poetic… I can't get enough… Last night when I was trying to choose which quotes to put up here, I couldn't make up my mind, because the writing is so gorgeous! (not to be repetitive or anything…)
I just wanted to wrap Juliette is my arms and tell her that everything was going to be fine (too bad that would probably get me killed in the process…).
Fair warning, I doubt that I will spoil anyone, because I bet that you've all read the books, but either way, be warned, I might say something SPOILERY!
Now, before you kill me for what I'm about to say, keep in mind that so far I've ONLY READ SHATTER ME, I haven't read the sequels yet. Are you keeping that in mind? Good! So, I really like Adam! He's just so sweet and attentive to her, and their scenes together are hot and steamy (and not just the ones in the shower).
I really like him. I like Adam with Juliette and I like Adam with James, and I wanted to punch James and Kenji a couple of times during the book, because come on! They have the worst timing ever! Couldn't they just let Juliette and Adam advance their relationship… poor Juliette (and Adam, after the second time I bet that he was just about to explode).
Also (again, don't kill me), Warner is a bit of s psycho in this book. He has a very weird fixation on Juliette and that whole scene in the warehouse (or whatever), though undoubtedly kind of hot, was super disturbing. How can he be so obsessed with someone he just met? His happiness for being able to touch her and then proceeding to assume that she would want to be touched by him, was unnerving. I know that everyone loves Warner, and I'm pretty sure I will to, but so far, nop, the guy is shady and creepy, albeit hot and beautiful.
I really liked the setting, I want to see more of it. The plot itself was nothing special, this book mainly introduced the characters and set up the world, and I'm betting that the next ones will have a deeper plot, so I'm excited for that.
Also, I really liked Juliette's character development, and there's no denying that this girl learns things fast. She goes from a broken little bird to someone who can hold her own (-ish) pretty fast. I can't wait to dive in to the next one.
I'm saying this again, because I feel like it will never be enough. Tahereh Mafi's writing is gorgeous, and I have a feeling that as soon as her next book is out, I'll be there to collect it.
Rating: 4.2 Stars