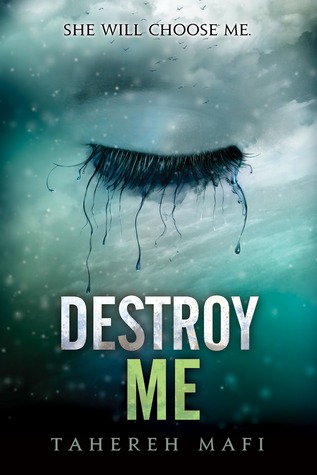 Perfect for the fans of Shatter Me who are desperately awaiting the release of Unravel Me, this novella-length digital original will bridge the gap between these two novels from the perspective of the villain we all love to hate, Warner, the ruthless leader of Sector 45. 

In Tahereh Mafi's Shatter Me, Juliette escaped from The Reestablishment by seducing Warner—and then putting a bullet in his shoulder. But as she'll learn in Destroy Me, Warner is not that easy to get rid of. . . 

Back at the base and recovering from his near-fatal wound, Warner must do everything in his power to keep his soldiers in check and suppress any mention of a rebellion in the sector. Still as obsessed with Juliette as ever, his first priority is to find her, bring her back, and dispose of Adam and Kenji, the two traitors who helped her escape. But when Warner's father, The Supreme Commander of The Reestablishment, arrives to correct his son's mistakes, it's clear that he has much different plans for Juliette. Plans Warner simply cannot allow. 

Set after Shatter Me and before its forthcoming sequel, Unravel Me,Destroy Me is a novella told from the perspective of Warner, the ruthless leader of Sector 45.
---
After my review of Shatter Me the other day, Josie said I should totally read Destroy Me before moving on to Unravel Me, and I took her advice. It took me less than no time to finish this novella. And people, ok, I kind of get it! I'm still not "in love" with Warner, but I get him a whole lot better now, and I feel this weird sympathy for him… it is weird because he's still a bit psycho!
I liked that he felt shame and regret by the way he behaved towards her. I actually loved all his reactions to everything Juliette, such as the notebook… man, some of those entries shattered me completely… her parents were horrible people! And so is his father! Gods, I just wanted to reach into the book and shoot him myself!
Oh, I hope his father rots in hell!!!! Despicable man!
And then, there was this moment that I realized "holy crap, he's a good guy!" (see quote below). So well deserved! But then his father ruined everything.
I have a lot of feeling towards this book. I simply loved Warner's voice, even if I'm still not entirely sold on him. I somehow wish I could see more moments from his perspective. And the entries on Juliette's journal are so insightful and so disturbing at the same time.
I loved this one!
Rating: 4.7 Stars