>>>>  Nº32 on My 2015 Reading Challenge – A Trilogy #2  <<<<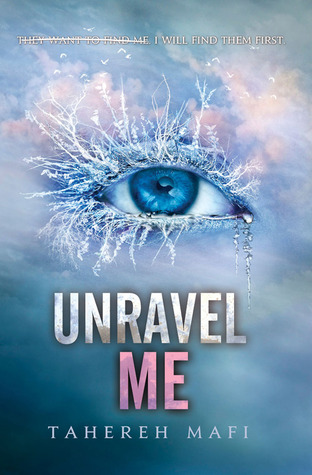 tick
tick
tick
tick
tick
it's almost
time for war.

Juliette has escaped to Omega Point. It is a place for people like her—people with gifts—and it is also the headquarters of the rebel resistance.

She's finally free from The Reestablishment, free from their plan to use her as a weapon, and free to love Adam. But Juliette will never be free from her lethal touch.

Or from Warner, who wants Juliette more than she ever thought possible.

In this exhilarating sequel to Shatter Me, Juliette has to make life-changing decisions between what she wants and what she thinks is right. Decisions that might involve choosing between her heart—and Adam's life.
---
I LOVED this book! Seriously, wow!
Warning, there will be SPOILERS, actually, there will be nothing but SPOILERS, because we already covered Mafi's wonderful writing in the review of the first book and the premise, so what's left?! SPOILERS!
***** Full disclosure: I AM OFFICIALLY TEAM WARNER! *****
First I need to say, I love Juliette. I know a lot of people can't stand her, or doesn't identify with her, but I do (in some weird way). It's not easy to be conditioned your whole life to believe in something and then change your ways from one moment to another. So I thought that her behaviour at the beginning of the book was totally normal, she was scared, she didn't reach out to anyone because she has never been able to in her whole life. This means that I was a bit pissed off at Castle and later at Kenji when both of them pushed a bunch of accusations towards her, not to say that they weren't right in what they said, but they said it all wrong, especially Kenji – I could have punched you, if you weren't so adorable!
I was a bit frustrated by Adam keeping secrets from her, I know he didn't want to lose her, but he didn't trust her, and that's not OK. And then, obviously, things went very wrong very fast and then the touchy moment ended abruptly. Poor Juliette. At first I was a bit dismayed that she was giving up so fast, but really, what choice did she had?!
This prompted her to make some friends and that was super! And she started to control her powers and that was awesome!
Then came trouble, enter Warner's dad – a.k.a. the most despicable human being in existence! And his awfulness bring Juliette to a state of fury and control that she didn't think possible and she awesomely starts torturing him – sorry, but he totally deserved it. He was lucky Kenji was there! And then it turns out that that stupid awful Anderson guy is Adam's father! Say what?! Yes, Adam and Warner and brothers and that's freaking fantastic!
Now Warner is being held hostage and Juliette has to talk to him, and he begins to unravel himself and she begins to really like it. Like really really, inappropriate thoughts and all that!
Warner has a power, which by the way is way cooler than his brother's (not James though, James is special!). Warner can sense and harness energy from other gifted people. So he can use Juliette's energy and it will never ever hurt him (interesting, right?!). This eventually leads to a chapter that I had to read at least 3 times because I was getting all dizzy and stuff… very hot chapter!
The pants on the floor?! OH MY LORD! And then… grrrrr, I could have slapped her!!!!
And then shit hits the fan and she's dying and Warner saves her and THE END! I need more!!! I want more Warner and Juliette, because he's so great with her!
I still like Adam (though I just read Fracture Me and I'm mad at him), but the truth is that Adam treats Juliette like she's this broken thing who needs fixing and who needs 24h protection. While Warner knows what she is and what she's capable of, and loves it, owns it, respects it… that's why I'm Team Warner right now, and I don't see that changing.
Rating: 4.5 Stars