>>>>  Nº32 on My 2015 Reading Challenge – A Trilogy #3  <<<<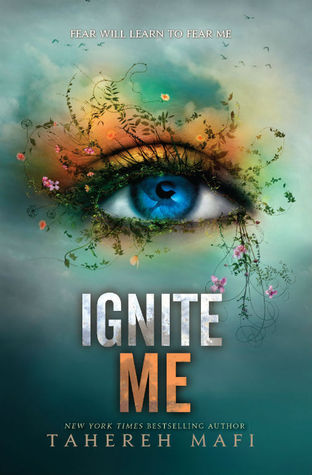 The heart-stopping conclusion to the New York Times bestselling Shatter Me series, which Ransom Riggs, bestselling author of Miss Peregrine's Home for Peculiar Children, called "a thrilling, high-stakes saga of self-discovery and forbidden love." 

With Omega Point destroyed, Juliette doesn't know if the rebels, her friends, or even Adam are alive. But that won't keep her from trying to take down The Reestablishment once and for all. Now she must rely on Warner, the handsome commander of Sector 45. The one person she never thought she could trust. The same person who saved her life. He promises to help Juliette master her powers and save their dying world . . . but that's not all he wants with her.

The Shatter Me series is perfect for fans who crave action-packed young adult novels with tantalizing romance like Divergent by Veronica Roth, The Hunger Games by Suzanne Collins, and Legend by Marie Lu. Tahereh Mafi has created a captivating and original story that combines the best of dystopian and paranormal, and was praised by Publishers Weekly as "a gripping read from an author who's not afraid to take risks." Now this final book brings the series to a shocking and satisfying end.
---
*** Warning, there will be lots of

SPOILERS

 ***
I am obsessed with this book! I started it on Thursday night (actually it was friday already, around midnight or something), thinking I would read a couple of chapters and head on to bed… yeah, that didn't work out. I stayed up until 6 a.m. reading it and only stopped because I was conscious that I needed to get some sleep before sunrise – by this time I was also fully aware that there was no way I was going into work in the morning. I finished it as soon as I woke up on Friday… and then I re-read a few chapters… several times during the whole weekend.
So as you might have figured it out by now, I absolutely loved this book, it's definitely my favorite of the series and I don't understand why it isn't longer, because I needed more of it. I have so many questions, and I don't understand why this is only a trilogy, because I could have had more (or at least some more novellas to keep me tight up).
Warner + Juliette
Have I mentioned before how much I love Warner? Yes? No? Oh well, I love Warner, a LOT! I loved that he finally explained everything to Juliette and that even extremely heart broken, he still did everything in his power to help her and gave her everything she wanted. He was so vulnerable throughout some parts of this book and that was such an interesting thing to read, given how he was always so in control in all the others. I loved all his moments with Juliette, and that what's kept me awake for the whole night!
Juliette grew so much in this book. I loved that she stood up for herself and those she loves!
I also liked that she took her time figuring out her feelings and that she only went to Warner when she knew that she had all the choices but all she wanted was him. But it was hard! He was in so much pain and she wanted him and didn't say it… oh…. my heart was in physical pain throughout all this.
But people… the sex! OMG! The sex! If their scene together in Unravel Me was hot (and it was), it doesn't hold a candle to everything that goes on here, just… wow!
By the way, "Lift your hips for me, love." will forever be etched into my brain…
(Also, why do I keep imagining him slightly british when he calls her "love"? I keep going to Tom Hiddlestone accent… don't know why…)
Juliette + Kenji
This was my second favorite thing about this book: Kenji and Juliette's friendship. I want a best friend like Kenji! He's hilarious, so damn funny, and I loved all their talks. I loved that he took the time and had the cool head to actually listen to her. Even if he thought she was a bit mental for trusting Warner, he still listened and understood. Such beautiful moments there…
Adam vs The

Wor

ld
When I started to read Shatter Me and loved Adam, I talked to Kat @Life and Other Disasters and she told me she didn't like Adam, that he did something bad. I couldn't understand, I believed I could never hate him, ship Juliette with Warner, maybe, but dislike Adam? Not possible!
Then I read Fracture Me and my feelings for Adam started to change very drastically, and then I got to this book and I wanted to kill him each time he opened his mouth! It's not that I don't understand where it's coming from, I can understand that, but what he said to Juliette? Some of that stuff is unforgivable in my book.
But I did like that Juliette stood up to him (you go girl!), but this Adam?! GOD! By the end he seemed a bit more mellow, but he was just so stupid throughout everything… I didn't like it, and I didn't like him! 😦
What I loved:
I really liked that ending. I liked that Anderson died with 2 bullets to the head – though Juliette, love, it should have been "One for Warner. One for Adam." and not the other way around… but hey, I forgive you.
I loved all the powers and projections and stuff. I'm a huge fan of Warner's power and how quickly he was able to control it.
I loved Juliette's relationship with Warner. I loved that he respected her, her powers and her opinions. And that she did the same regarding him. They ended up being a perfectly balanced couple, and I couldn't have predicted that on book 1.
WHY I WANTED MORE:
I wanted more of Juliette and Warner. I wanted more of them as a couple, I wanted to know what happened when she took control, I wanted to know it all. I also wanted more bed, tables, walls, bathtubs and disrobing scenes… seriously, they can't even keep their clothes on!
I also would have loved to have a double POV in this book, I wanted to know what Warner was thinking for most of the book, especially during all those weeks when he couldn't even look straight at Juliette.
More Kenji! More Kenji with Juliette. More Kenji with Warner. Basically, more Kenji.
I wanted to know more about Winston and Brendan and all of the gang. I wanted backstories and the works. Novellas, maybe? Can a girl dream?
I wanted Warner bonding with Adam and James. I absolutely loved that Warner was the bigger man and showed interest and getting to know his brothers, but I wanted to see him actually interacting with the both of them as brothers. Also, James would be confused as hell…
I wished that Anderson would have been aware that both his children were against him – not that it would have mattered to him… he was a monster.
I wanted to know all the secrets that Warner was still not telling. Come on, we just know that there's a lot more stuff, right? I wanted everything!
Rating: 4.7 Stars
PS: to everyone that told me that Warner would win me over and that I would change my opinion of him from the first book on… you were so so right!
PS2: I'm so unwilling to let go that I actually went looking for fanfiction last night… I never ever read fanfic before…
– Shatter Me – Destroy Me – Unravel Me – Fracture Me –