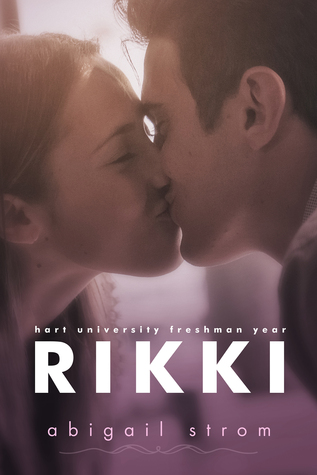 Ever since junior high and an ill-fated game of seven minutes in heaven, Rikki Eisendrath and Sam Payne have hated each others' guts. But when they end up at the same college—and the same dorm—they figure it's time to declare a truce.

They even become friends… sort of. But when Sam asks Rikki to model for his sculpting project, they start spending more time together—and her feelings for him get more complicated.

She tries to focus on the guy she's been crushing on instead. But Sam's the one she can't stop thinking about, even though their arguments are starting to heat up as much as the chemistry between them. 

With antagonism and attraction this intense, there's bound to be an explosion. But when the dust settles, will Sam and Rikki be enemies, friends… or something more?
Pub Date: September 22nd 2015 
I received an eArc from the author through Netgalley in exchange for an honest review.
---
I started to read Rikki while I was waiting to board my plane from Barcelona to Paris, and finished it within the first couple of hours of my plane ride from Paris to Seoul – mind you, I didn't read on the first plane, nor while in CDG airport – I was about to collapse from sleep deprivation at that point. Somehow, even though I was super tired, and the lights from the cabin were super dimmed, I was so immersed in this book that I used the tv screen from the seat in front of me as a light provider in order to finish it…
At first I was having a bit of a problem getting into the narrative, mostly due to the writing style, but once I got used to that, the novel flowed quite well, easy and fast.
I really liked the inclusion of so much diversity within this book, and I liked especially the lack of sexual-shaming and the sex-positive view that it tries to convey.
Moving on, Rikki and Sam, …, they were still in highschool and I just wanted to slam their heads together because it was so clear that Sam liked her since they were 13. I mean, poor guy, really… I loved their relationship development, how slow it was, how they became friends despite all their animosity at first, until she finally realised her feelings for him. Once again, his were clear as day, except for her, obviously.
I really liked their scenes together, and once she began posing for him and sleeping in his room, it got even better. I did have a couple of problems with a couple of things, one is by him (months earlier) and it's just weird, and then I have a problem with her reaction (if you've read it you know her reaction to what…). I could easily ignore her behaviour at the art studio, though I didn't quite understood all her anger, and I definitely understood why he did what he did, when he thought he had no chance with her. But for such a smart couple of people, they sure were a bit dumb about each other…
I was glad about how it ended, though I didn't think the rose petals were all that necessary… I'm very curious about the next books, and I'm sure I'll keep reading this series.
Rating: 3.6 Stars