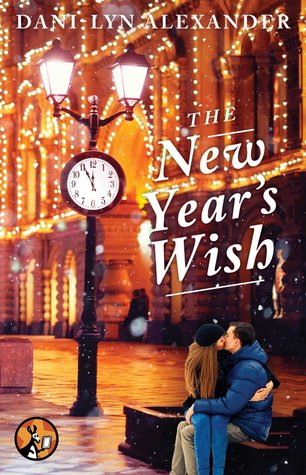 Typing out memos is anything but torturous when your boss is this hot! Dani-Lyn Alexander's irresistible new yuletide romance is a lighthearted office romp that will make you long for the company holiday party. 

Olivia Calloway isn't cut out for the nine-to-five life. She's a born entrepreneur. She just has to figure out her soul's true calling — and she's given herself until the clock strikes midnight on New Year's Eve to do it. With her trust fund dwindling and only two and a half months to go, she takes an assistant position at prestigious law firm Harris & Harris. The problem is, Olivia's a terrible employee — incessantly late, forgetful, and clumsy. Not that her gorgeous new boss Garrett Emerson seems to mind. Beautiful, charming Olivia has been on his mind ever since she ran into him, literally, sprinting to the interview. But Olivia's first big assignment — to plan an elaborate last minute New Year's Eve party for the entire company — could make or break her job entirely. With Ms. Harris herself demanding perfection, a jealous office rival rooting for Olivia to lose, and even Garrett dreading the affair, can Olivia finally prove herself — or will an unforeseen complication send her back to the drawing board? All she wants for the holidays is to be her own boss — and to ignite the flirtatious sparks between her and Garrett…so she can file their relationship under love.
Pub Date: November 30, 2015 by Pocket Star
I received an eArc from the publisher through Netgalley in exchange for an honest review.
---
I read this book on the day that I got to South Korea, by then I was severely sleep deprived, but I got through the book pretty quickly in a few hours – I blame the hotel and the fact that they didn't have my room ready by the time I got in.
This was a fun and light read, and honestly that's the most I can say in favor of this book: it's fun, light, easy to read.
The writing is easy enough to get through, but I did find a lot of inconsistencies. At first I thought "well, Cristina, maybe you're reading things wrong because you haven't slept in 48 hours…", but nop, it was not my mistake. The timeline is a bit messed up between Olivia and Garrett's point of views.
The characters are fun and light as well, but it's a case of sort of insta-love, and there isn't much character or relationship development and that was a real shame. We do see Olivia bonding with Garrett's daughter, and sure, that is taken into account, but at the end of the day it doesn't go much deeper than that.
The plot reads like a simple TV movie rom-com – fun, light and perfect for a lazy sunday. I found the ending quite hard to swallow really, and if you've read this you probably understand why.
To sum it up, it was an alright read, you should give it a go if you like fun, light romances, without much plot. As I said, perfect for a lazy sunday… 😉
Rating: 2.3 Stars