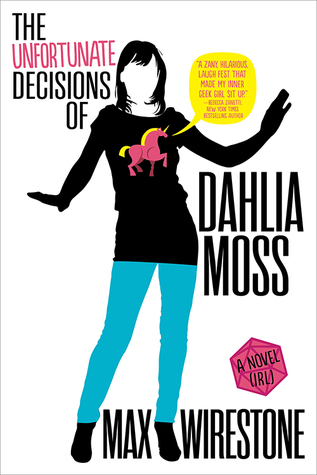 For fans of The Guild, New Girl, Scott Pilgrim, Big Bang Theory, Veronica Mars, or anyone who has ever geeked out about something. 

The odds of Dahlia successfully navigating adulthood are 3,720 to 1. But never tell her the odds.

Meet Dahlia Moss, the reigning queen of unfortunate decision-making in the St. Louis area. Unemployed broke, and on her last bowl of ramen, she's not living her best life. But that's all about to change.

Before Dahlia can make her life any messier on her own she's offered a job. A job that she's woefully under-qualified for. A job that will lead her to a murder, an MMORPG, and possibly a fella (or two?).

Turns out unfortunate decisions abound, and she's just the girl to deal with them.
Pub Date: October 20, 2015 by Redhook Books
I received an eArc from the publisher through Netgalley in exchange for an honest review.
---
I had so much fun reading this book. The geeky references were amazing, and I would like to say that outside the MMORPG references – that I got only because I watched The Guild recently, I got most of everything else! So yay me! The Pokemon references were totally lost on me, I have to admit that I never watched it…
I LOVED the writing. It is written as if Dahlia is writing her story in the future about the events that have already occurred, so sometimes she gives hints to the future and her inner dialogue is hilarious.
(my copy did have some typos and missing words, but it was an ARC, so I'm not sure how the final version turned out.)
The characters are so many that a few felt underdeveloped. I think that it would have worked better to cut some of the Guild members and stick to the important ones plot-wise. I really liked Dahlia, and I loved Nathan, and I wanted to see more of them and their weird and cute relationship, but that didn't developed much (unfortunately). Charise was crazy as hell, and she really kept me on my toes right until the end of the book (I thought for sure that a plot twist was coming…). I really liked Detective Schuler and until the end I wasn't sure if there might be something more between him and Dahlia… I think she should stick with Nathan though, but honestly, the book didn't give much closure in regards to that and I would like to know who she did end up with (sorry people, I'm a sucker for romance!).
The plot kept me thinking. I will tell you this though: I did not see the murderer coming… but a few things were a bit convoluted. Still, the plot flowed well enough and it had a good pacing.
I was expecting Dahlia's ex-boyfriend Erik to actually make an appearance – other than in-game – but he did not, and I felt that that was a missed opportunity, given how much time she spent thinking about her failed relationship with him.
To sum it up, I really enjoyed this book, and it left me wanting more. I could totally see this becoming a series or something, with Dahlia taking on nerdy cases and socializing with her weird and wonderful new friends.
Rating: 4.2 Stars