Hello, welcome back to another Book Traveling
Thursdays, which a weekly meme created by Cátia @The Girl Who Read Too Much and Danielle @Danielle's Book Blog. The goal is to share the covers of a book related to that week's theme, which you can see at the Goodreads group, indicating the original cover, the one of your country, your favorite and least favorite.
This week's theme is "World Peace Day was two day ago! Choose a book that deals with a war". I've only now realized that I haven't read that many books with Wars on them, and those I've read are either dystopians or fantasy… oh well :P… Still riding the Penryn & the End of Days train, this is the perfect excuse to use Angelfall. If you haven't read this book, it deals with what happens after the Angels arrive on Earth. In this first book there isn't that much confrontation between Humans and Angels, but they're amidst a war for sure, even if it's clear that the Angels are easily winning.
---
Original 

COver

:
How gorgeous is this cover? The original US cover is amazing, and I really want to own all 3 physical books, because not only is the story amazing, but the covers themselves are beyond gorgeous.
COVER F

ROM MY COU

NTRY (PORTUGAL) & COVER FROM THE COUNTRY I LIVE IN (SPAIN):
Surprise surprise! Obviously this book hasn't arrived in Portugal yet… I couldn't even find the Brazilian version, so I present the Spanish edition to you. The cover is similar to the original one, though those sword shadows are confusing and honestly, not that great…
Favorite COVER(s):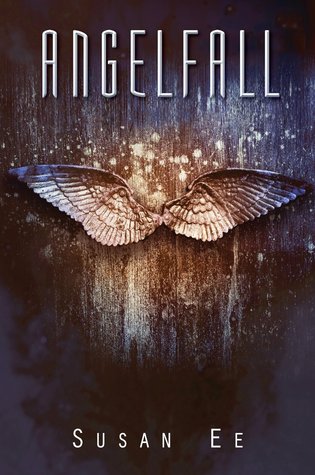 This one is definitely my favorite. It's very similar to the original one, but the lettering is different and the placement of the title and the author's name is different. I like this one better, a lot better. This cover is so gorgeous!!! I want it… bad!
LEAST FAVORITE COVER(s):
Ohhh, so many bad covers for this book! First off is the Italian, I mean, who is that supposed to be? Penryn? Because that«s not Penryn… Second we have the Indonesian edition, and my only problem with it is the fact that I'm not a fan of people on covers, but let's face it and admit that that Raffe wannabe is kind of hot. Next up is the Turkish cover, and this one, just NO, God, is that Raffe? It's so ugly! Now for the German, and my problem with it the the lettering more than anything, because the graphics are tolerable enough. And last, obviously, is the Russian edition, and I'll say this for it: it's not the worst russian cover out there, but it still looks like a fantasy cover from the 80's or 90's…