Hello people! Two days until Christmas!!!! So, it's time for another book tag, this time Becca @Shih Tzu Book Reviews tagged me for the Christmas Song Book Tag.
---
"You're A Mean One, Mr Grinch" 
Name a villainous character you couldn't help but love.
I want to say someone in Red Queen, but that would be the motherload of spoilery, so I'm settling with Warner from the Shatter Me series :D.
---
"All I Want For Christmas Is You" 
Which book do you most hope to find under your Christmas 
Oh, so many! I'll say one I'm sure will be under the Christmas tree (because I put it there) and I'm pretty excited about it, and that's Illuminae by Amie Kaufman and Jay Kristoff.
---
"Rudolph The Red-Nosed Reindeer"
Name a character that overcomes major obstacles and learns to believe in themselves.
I'm going with Madeline from Everything, Everything by Nicola Yoon. She overcomes something truly major and she learns some very important stuff in that process.
---
"Santa Claus is Coming To Town"
A character at the top of the naughty list/ a character at the top of the nice list.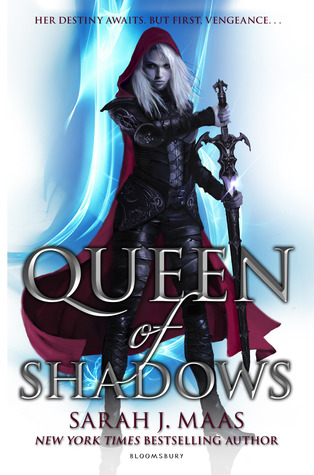 On top of my nice list will go Cress from Cress by Marissa Meyer, because let's face it: Cress is the cutest character ever!
Celaena/Aelin from the Throne of Glass series goes to the top of my naughty list, because of everything she unashamedly and amazingly does throughout the 5 books that are out.
---
"Frosty The Snowman"
A book which just melts your heart.
I'll step away from my usual answers and say Whatever It Takes by L.E. Bross, because this book totally melted my heart. Ryan and Tess are pretty amazing and their story is beyond cute and heart melting.
---
"Feliz Navidad"
A book that takes place somewhere other than your home country.
Ehehe, all books take place somewhere else besides my country :D. Your Voice Is All I Hear by Leah Scheier is set in the USA. 🙂
---
"It's The Most Wonderful Time of Year"
Which holiday themed book do you use to spread Christmas joy?
I don't really have a themed book I use to spread Christmas joy, so I'll just use a book that is set during Christmas season, and that is Landline by Rainbow Rowell.
---
"Sleigh Ride"
Which fictional character would you choose to spend the holidays with? (Doesn't have to be a love interest.)
I would like to spend it with Asher from The Girl's Got Secrets (Forbidden Men #7) by Linda Kage. First of all, the guy is just awesome, and second, he would really appreciate all the "normal" family stuff because he's never had it before and he so deserved it.
---
"Baby It's Cold Outside"
Which book that you didn't like would you sacrifice to a fire to keep yourself warm?
This question is a bit of a sacrilege, because no book ever should ever be burned… BUT The Rock Star's Secret Baby by Zara Keane (if I had it in physical form, which I don't!). I gave this book ZERO stars, so yeah…
---
"Do You Hear What I Hear?"
Which book do you think everyone should read?
I feel like a broken record here, but please read Simon Vs. The Homo Sapiens Agenda by Becky Albertalli. It's so damn great!!!
---
There, done! I tag EVERYONE!!! If you haven't done this one yet, hurry and do it!