Hello, welcome back to another Book Traveling
Thursdays, which a weekly meme created by Cátia @The Girl Who Read Too Much and Danielle @Danielle's Book Blog. The goal is to share the covers of a book related to that week's theme, which you can see at the Goodreads group, indicating the original cover, the one of your country, your favorite and least favorite.
This week's theme is "Crying is not always bad. Choose a book that made you ugly cry". I'm a crier. I cry while reading. I get too emotional and do weird faces and cry, whether I'm in private or not. The book I chose didn't make me cry too much, but it broke my heart more than many who have did. So, for this week, it will be Hopeless by Colleen Hoover.
---
Original 

COver

:
I love the image they used on the cover, I'm just not 100% on title. I prefer the version that only has it once, instead of smearing all over the cover.
COVER F

ROM MY COU

NTRY (PORTUGAL) & COVER FROM THE COUNTRY I LIVE IN (SPAIN):
Oh, look at that! The book has been translated to both portuguese and spanish :D, and I'm glad they used the original cover, though I do prefer the portuguese version to the spanish one, because the colours are a bit more toned down.
Favorite COVER(s):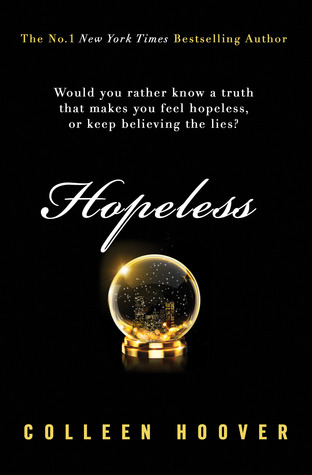 Both my favorite versions are from the UK. The first is just the original with a different placement for the title and author, and I like it much better than the original version. The second one I love because it's black and gold and reminds me of the sky…
LEAST FAVORITE COVER(s):
There are some bad covers for this book, but I think that the Dutch, French and Slovak are definitly the worst… I mean, neither of these girls reminds me of Sky… nope.