Six days ago, astronaut Mark Watney became one of the first people to walk on Mars.

Now, he's sure he'll be the first person to die there.

After a dust storm nearly kills him & forces his crew to evacuate while thinking him dead, Mark finds himself stranded & completely alone with no way to even signal Earth that he's alive — & even if he could get word out, his supplies would be gone long before a rescue could arrive.

Chances are, though, he won't have time to starve to death. The damaged machinery, unforgiving environment or plain-old "human error" are much more likely to kill him first.

But Mark isn't ready to give up yet. Drawing on his ingenuity, his engineering skills — & a relentless, dogged refusal to quit — he steadfastly confronts one seemingly insurmountable obstacle after the next. Will his resourcefulness be enough to overcome the impossible odds against him?
---
Kat @Life and Other Disasters had loved The Martian a long while ago, and she had been telling me to read it since then. I got the ebook (don't remember when to be honest), but I just wasn't in the mood, and I kept putting it off… maybe I thought that because it was Sci-Fi, it would take me a long time to get through it? I don't know! But then I got the audiobook, because I thought that this one would be amazing as audio, and I started it on my first day off of work, and I listened to nothing else for a whole day! I was cooking and listening. At the gym? Listening! Riding in a car with the family? Listening… to my sister's dismay. Long story short: I'M IN LOVE WITH THIS BOOK!
On to the review now. The writing is genius! I loved how funny it was, even though the majority of the book is written in logs – and monologues can be boring sometimes – this one is anything but. Mark Watney is a funny SOB. The humour is on point! I also loved how different the narration is, depending on the POV we're on. Mark's POV is mostly told by logs, or emails, messages, but when the book focus on other characters, the narration changes to the third person. It's a very smart way to write a book. I approve :D.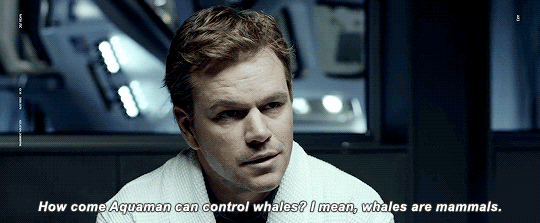 Mark is amazing! Seriously, he's amazing! I love how he doesn't panic at all. EVER! He gets a problem, he thinks about it – in a very funny way – and then he solves it. He's awesome! 😀
I really liked the supporting characters and the various interactions between the different characters, as well as how representative this team was. The collaboration between the various teams and members was great, and it was a pleasure to read about. I might have teared up a bit when the chinese get involved, to be honest.
The plot flows supper nicely, and it didn't feel nearly as long as the book actually is. I didn't find this book predictable at all, and mind you, the movie has been out for awhile, I hadn't seen it yet, but I still didn't know where this was all going. I was just really hoping that he would be able to get out of Mars somehow, because come on… that was logical, right? I loved all the science stuff, loved it. The scientist in me was like: YES! (even though I'm not that kind of scientist, and astrophysics is not my thing at all).
Overall, I really really loved this book, so I HAVE TO recommend it to you guys. You need to read The Martian. NOW! If you don't want to pick up the book, listen to the audiobook, because you won't be sorry!