What happened in high school stayed in high school. Until now. 

Five years ago, Michael Graham betrayed the only person who ever really knew him. Since then, he's made an art of hiding his sexuality from everyone. Including himself.

So it's a shock when his past strolls right into the Harkness College locker room, sporting a bag of hockey gear and the same slow smile that had always rendered Graham defenseless. For Graham, there is only one possible reaction: total, debilitating panic. With one loose word, the team's new left wing could destroy Graham's life as he knows it.

John Rikker is stuck being the new guy. Again. And it's worse than usual, because the media has latched onto the story of the only "out" player in Division One hockey. As the satellite trucks line the sidewalk outside the rink, his new teammates are not amused.

And one player in particular looks sick every time he enters the room.

Rikker didn't exactly expect a warm welcome from Graham. But the guy won't even meet his eyes. From the looks of it, his former… best friend / boyfriend / whatever isn't doing so well. He drinks too much and can't focus during practice.

Either the two loneliest guys on the team will self destruct from all the new pressures in their lives, or they can navigate the pain to find a way back to one another. To say that it won't be easy is the Understatement of the Year.
---
By now you know that I've read a lot of books by Sarina Bowen, right? After I finished the True North series, I still needed more awesome words, so I decided it was time to keep going with The Ivy Years series.
Unlike the previous two books of this series, The Year We Fell Down and The Year We Hid Away, The Understatement of the Year features a same sex couple. Again, this isn't my first book featuring a M/M couple from Sarina Bowen, because I've read Him and Us and those are two of my overall favorite novels, ever. So, while reading this one, it was hard not to compare to Him, because the books had some things in common.
I'm not going on again about how much I like Sarina's writing, let's just assume that's a given, ok?
About the characters… I have to say that it took me a little bit to warm up to Graham. I understood him, completely, but he shouldered a weight that was just too big, and the way he saw things bothered me a bit. I understood how he was not ready to be out, but I didn't like how he saw the label, if you know what I mean. I felt sorry for him though, because he was so miserable… 😦 Michael Graham broke my heart each time I was reading his POV!
Rikker was a lot easier to love, probably because he also accepted himself, which was something that Graham didn't do. I really liked his openness and his sense of humour. I wanted him to stand up for himself more when it came to Graham though, because for awhile there it hurt me that Rikker was willing to settle for something less than he deserved.
Contrary to the two previous books, this one focused heavily on hockey and on the team dynamics, and I really liked that. It was interesting to see the group working together, and how they dealt with Rikker's sexuality. I loved most of the guys and especially that coach, he was awesome.
Another person that I absolutely loved was Bella, and I loved her relationship with both boys and how supportive she was of them – individually!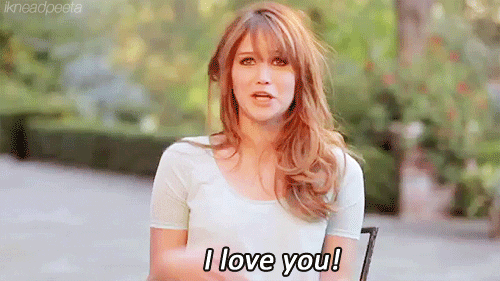 The couple of events that advanced the story were something that I wasn't expecting, and I really liked them, though, again, they were heartbreaking. I liked seeing the guys support each other they way they did… true love there!
I have to complain about something though, and it was that abrupt ending. After Graham's repressed feelings throughout the whole book, I thought that the resolution was rushed. I needed more from them after they got home. I needed to see Graham being as least partially ok with the fact that people knew he was gay. I wanted to see the team and their reactions. I needed at least an epilogue… Guess I'll read book 4 and hope that Bella talks about it a little, right?