Wingman rule number two: never reveal how much you want them.

Lex hates Gabi. Gabi hates Lex. But, hey, at least the hate is mutual, right? All Lex has to do is survive the next few weeks training Gabi in all the ways of Wingmen Inc. and then he can be done with her. But now that they have to work together, the sexual tension and fighting is off the charts. He isn't sure if he wants to strangle her or throw her against the nearest sturdy table and have his way with her.

But Gabi has a secret, something she's keeping from not just her best friend but her nemesis too. Lines are blurred as Lex becomes less the villain she's always painted him to be… and starts turning into something more. Gabi has always hated the way she's been just a little bit attracted to him — no computer-science major should have that nice of a body or look that good in glasses — but "Lex Luthor" is an evil womanizer. He's dangerous. Gabi should stay far, far away.

Then again, she's always wanted a little danger.
---
OMG! What a difference a book makes… While I enjoyed the first installment, it was nothing compared to how I felt about this one. I loved this one!
The writing was great again, but what I loved the best were the narrators. Yes, the guy was the same that played Ian in book 1, but heck, his voice was so much hotter on this one. And the girl? Hilarious. I thought they captured perfectly the love/hate thing that Gabi and Lex have going on. I loved that this book was told in dual POV, unlike the first one, because here, both main characters had a huge weight.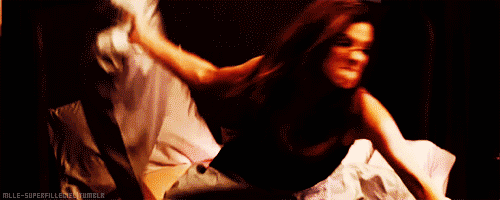 I absolutely loved both characters on this one. They are both so rude and mean! I mean that: Lex and Gabi are rude and loud and they treat each other like crap most of the time. I still loved them to death. I thought that even though they said harsh things to each other all the time, they cared too much and that was clear on their actions. At some point Gabi says something like how Lex's actions are worth more than his words, and yeah, I thought that was true. I think that at first sight, both characters are unlikable, but they will grow on you. Especially once you understand why is it that they feel the need to constantly attack each other.
The romance was AMAZING! The whole yelling, fighting, throwing things, and then all the kissing, really made it work. The way they cared about each other was heartwarming, and I loved that even when they admitted their feelings, they were still themselves.
I really liked the problems that arose, and especially how they dealt with them, and how IN they were once they got together, which was especially hard for Lex, given how afraid he was to lose Ian.
Very well done. I LOVED this one! Read it! Read the Ian's story first, but then read this one, because this one is SO MUCH BETTER!