My childhood was perfect.

I've led a charmed life, and I'm not going to blow it now by picking the wrong guy.

I've got my sights set on my brother's best friend.

He's known my family for years. He's reliable and kind and handsome.

Sure, he's been avoiding me since I was six.

I'm a bit aggressive for him, maybe.

But he's the one… right?
---
After reading Wrong, the first book of this series, I was curious but also slightly scared about this one. I had a few issues with the first one, and I didn't want to see them repeated. Fortunately that didn't happen, although I thought that the themes of both books were very similar.
Once again I found the writing hilarious, possibly even more so, and I had a blast reading it. I think it takes a special talent to write crazy well, and the two main characters, Everly and Sawyer, are definitly a little bit cray-cray, which is fine, because they're kind of perfect for each other.
Throughout the first book, we hear about Everly's slightly stalkerish tendencies directed towards Professor Camden, her brother's BFF and the one she thinks she's destined to be with. Her behaviour is WRONG and hilarious at the same time, and going into this book I wondered who her Mr Right would be, and what would he have to do to pull her out of her "obsession". Turns out that all Sawyer had to be was himself, because he was a perfect match to Everly. He was just like her! They got each other, they knew each other's moves, they made perfect sense. I loved it! They were just so fun to read about together :D.
Even though Everly is a little lost throughout the book about her future and aspirations, she knows who she is, and she has a very strong personality, and I really liked that about her. She might have made all of her life's decisions because of a guy, but in the end, she's her own person and Sawyer gives her time and freedom for her to find herself.
That's what I really liked about their relationship, because even though Sawyer was significantly older than Everly, he didn't pressure her to figure out her life and never made her feel less because of it. While in book 1 I thought that there was a huge power imbalance in Luke and Sophie's relationship, I didn't feel anything of the sorts in this book.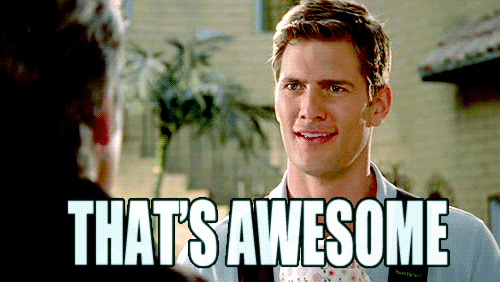 While the "conflict" in the book was highly predictable – as I said, not that different from book 1 – I thought it was handled quite well. I wasn't the hugest fan of Sawyer's initial reaction, but I understood him, because he was trying to protect the woman he loved. But ultimately, Everly was Everly and she rocked! I seriously liked this girl :D.
I thought this was a huge step up from the first book of the series, the characters were hilarious, and the only reason I can't give it a higher rating is because the plot was too much like the first one, and the book didn't really surprise me there. But the characters were spectacular, and I could have read a lot more pages with these two… well done!