One of the first things I did when I became a book blogger, was signing up for Netgalley. I went into a frenzy at the beginning and requested a bunch of books that was sure I wouldn't get, but some time has passed, and after 197 approvals and 103 denials, I have some sense of the books I'm going to get approved or not as soon as I request them. I still request them even if I think I won't be, because miracles do happen, right?
So, I thought I would share with you some of the books I was approved for lately that really made me feel "oh wow, I guess I accomplished something as a blogger!".
---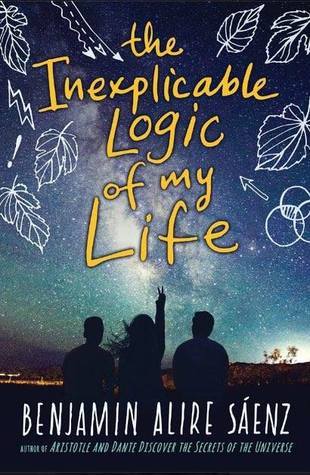 The Inexplicable Logic of My Life by Benjamin Alire Saenz was one of my latest requests on NG, and I was SURE I wouldn't get approved for it. I read Aristotle and Dante Discover the Secrets of the Universe in 2015 and really enjoyed it, so I was ecstatic when I got the approval email.
Sal used to know his place with his adoptive gay father, their loving Mexican-American family, and his best friend, Samantha. But it's senior year, and suddenly Sal is throwing punches, questioning everything, and realizing he no longer knows himself. If Sal's not who he thought he was, who is he?
---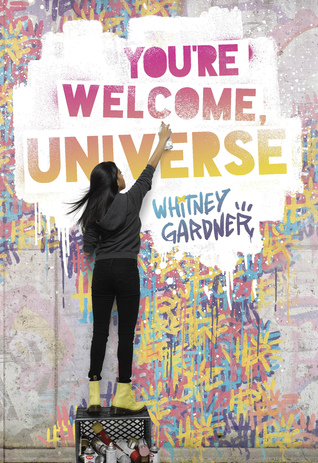 You're Welcome, Universe by Whitney Gardner was another one I requested with a certainty that it would come my way. Mostly because it has been in everyone's lists for awaited diverse reads, and when a book is that hyped right off the bat, it's really tough to get eARCs from it.
When Julia finds a slur about her best friend scrawled across the back of the Kingston School for the Deaf, she covers it up with a beautiful (albeit illegal) graffiti mural. 

Her supposed best friend snitches, the principal expels her, and her two mothers set Julia up with a one-way ticket to a "mainstream" school in the suburbs, where she's treated like an outcast as the only deaf student. The last thing she has left is her art, and not even Banksy himself could convince her to give that up.

Out in the 'burbs, Julia paints anywhere she can, eager to claim some turf of her own. But Julia soon learns that she might not be the only vandal in town. Someone is adding to her tags, making them better, showing off — and showing Julia up in the process. She expected her art might get painted over by cops. But she never imagined getting dragged into a full-blown graffiti war.

Told with wit and grit by debut author Whitney Gardner, who also provides gorgeous interior illustrations of Julia's graffiti tags, You're Welcome, Universe introduces audiences to a one-of-a-kind protagonist who is unabashedly herself no matter what life throws in her way.
---
Definitions of Indefinable Things by Whitney Taylor was yet another one that I thought was a long shot, and I can't wait to delve into it.
This heartbreaking, humorous novel is about three teens whose lives intersect in ways they never expected.

Reggie Mason is all too familiar with "the Three Stages of Depression." She believes she's unlocked the secret to keeping herself safe: Nobody can hurt you if you never let them in. 

Reggie encounters an unexpected challenge to her misanthropy: a Twizzler-chomping, indie film-making narcissist named Snake. Snake's presence, while reassuring, is not exactly stable—especially since his ex-girlfriend is seven months pregnant. As Reggie falls for Snake, she must decide whether it's time to rewrite the rules that have defined her.
---
Noteworthy by Riley Redgate just sounded so interesting that I couldn't resist asking for it. I didn't read her previous novel, but I heard good things about it.
It's the start of Jordan Sun's junior year at the Kensington-Blaine Boarding School for the Performing Arts. Unfortunately, she's an Alto 2, which — in the musical theatre world — is sort of like being a vulture in the wild: She has a spot in the ecosystem, but nobody's falling over themselves to express their appreciation. So it's no surprise when she gets shut out of the fall musical for the third year straight.

Then the school gets a mass email: A spot has opened up in the Sharpshooters, Kensington's elite a cappella octet. Worshiped … revered … all male. Desperate to prove herself, Jordan auditions in her most convincing drag, and it turns out that Jordan Sun, Tenor 1, is exactly what the Sharps are looking for.
---
Queens of Geek by Jen Wilde. I fell in love with the title and the cover, before I even read the blurb or started seeing the book on diverse books lists. So glad they approved me.
When BFFs Charlie, Taylor and Jamie go to SupaCon, they know it's going to be a blast. What they don't expect is for it to change their lives forever. 

Charlie likes to stand out. SupaCon is her chance to show fans she's over her public breakup with co-star, Jason Ryan. When Alyssa Huntington arrives as a surprise guest, it seems Charlie's long-time crush on her isn't as one-sided as she thought.

While Charlie dodges questions about her personal life, Taylor starts asking questions about her own.

Taylor likes to blend in. Her brain is wired differently, making her fear change. And there's one thing in her life she knows will never change: her friendship with Jamie—no matter how much she may secretly want it to. But when she hears about the Queen Firestone SupaFan Contest, she starts to rethink her rules on playing it safe.
---
Goodbye Days by Jeff Zentner. I haven't read his previous book, but Kat loved it, and I trust in her opinion. So when this book showed up on Netgalley, I requested it, and then I requested it again (one of those requests was denied…).
Can a text message destroy your life?

Carver Briggs never thought a simple text would cause a fatal crash, killing his three best friends, Mars, Eli, and Blake. Now Carver can't stop blaming himself for the accident and even worse, there could be a criminal investigation into the deaths.

Then Blake's grandmother asks Carver to remember her grandson with a 'goodbye day' together. Carver has his misgivings, but he starts to help the families of his lost friends grieve with their own memorial days, along with Eli's bereaved girlfriend Jesmyn. But not everyone is willing to forgive. Carver's own despair and guilt threatens to pull him under into panic and anxiety as he faces punishment for his terrible mistake. Can the goodbye days really help?
---
So guys, have you been approved for any of these? Are you excited for any of them?
In your time requesting ARCs, was there any you got that you thought "YAY, I MADE IT"?!