My first post was about my latest approvals on Netgalley that made me feel accomplished. The second one was about denied requests, that made me super sad. So, to continue the sad wave, I'm gonna show you some books which requests are still pending, but experience tells me they will be denied too.
Check it out…
---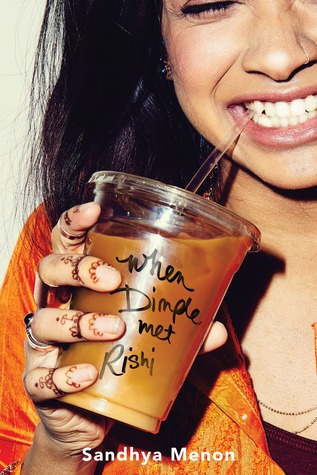 When Dimple Met Rishi by Sandhya Menon is one of the most talked about upcoming releases, and I want to read it, though I'm a bit on the fence about the arranged marriage thing, but either way, I'm probably not getting it.
Dimple Shah has it all figured out. With graduation behind her, she's more than ready for a break from her family, from Mamma's inexplicable obsession with her finding the "Ideal Indian Husband." Ugh. Dimple knows they must respect her principles on some level, though. If they truly believed she needed a husband right now, they wouldn't have paid for her to attend a summer program for aspiring web developers…right?

Rishi Patel is a hopeless romantic. So when his parents tell him that his future wife will be attending the same summer program as him — wherein he'll have to woo her — he's totally on board. Because as silly as it sounds to most people in his life, Rishi wants to be arranged, believes in the power of tradition, stability, and being a part of something much bigger than himself.

The Shahs and Patels didn't mean to start turning the wheels on this "suggested arrangement" so early in their children's lives, but when they noticed them both gravitate toward the same summer program, they figured, Why not?

Dimple and Rishi may think they have each other figured out. But when opposites clash, love works hard to prove itself in the most unexpected ways.
---
The Heartbeats of Wing Jones by Katherine Webber is everywhere and I want it so bad! I'm crossing my fingers on this one.
Wing Jones, like everyone else in her town, has worshipped her older brother, Marcus, for as long as she can remember. Good-looking, popular, and the star of the football team, Marcus is everything his sister is not.

Until the night everything changes when Marcus, drunk at the wheel after a party, kills two people and barely survives himself. With Marcus now in a coma, Wing is crushed, confused, and angry. She is tormented at school for Marcus's mistake, haunted at home by her mother and grandmothers' grief. In addition to all this, Wing is scared that the bank is going to repossess her home because her family can't afford Marcus's mounting medical bills.

Every night, unable to sleep, Wing finds herself sneaking out to go to the school's empty track. When Aaron, Marcus's best friend, sees her running one night, he recognizes that her speed, skill, and agility could get her spot on the track team. And better still, an opportunity at a coveted sponsorship from a major athletic gear company. Wing can't pass up the opportunity to train with her longtime crush and to help her struggling family, but can she handle being thrust out of Marcus's shadow and into the spotlight?
---
I asked this one on a whim, but I'm so interested in it… Empress of a Thousand Skies by Rhoda Belleza.
Empress
Rhee, also known as Crown Princess Rhiannon Ta'an, is the sole surviving heir to a powerful dynasty. She'll stop at nothing to avenge her family and claim her throne.

Fugitive
Aly has risen above his war refugee origins to find fame as the dashing star of a DroneVision show. But when he's falsely accused of killing Rhee, he's forced to prove his innocence to save his reputation – and his life.

Madman
With planets on the brink of war, Rhee and Aly are thrown together to confront a ruthless evil that threatens the fate of the entire galaxy.

A saga of vengeance, warfare, and the true meaning of legacy.
---
Amina's Voice by Hena Khan sounds so interesting. I want to read this one. Are you listening to me, publisher?
A Pakistani-American Muslim girl struggles to stay true to her family's vibrant culture while simultaneously blending in at school after tragedy strikes her community in this sweet and moving middle grade novel from the award-winning author of It's Ramadan, Curious George and Golden Domes and Silver Lanterns.

Amina has never been comfortable in the spotlight. She is happy just hanging out with her best friend, Soojin. Except now that she's in middle school everything feels different. Soojin is suddenly hanging out with Emily, one of the "cool" girls in the class, and even talking about changing her name to something more "American." Does Amina need to start changing too? Or hiding who she is to fit in? While Amina grapples with these questions, she is devastated when her local mosque is vandalized.

Amina's Voice brings to life the joys and challenges of a young Pakistani American and highlights the many ways in which one girl's voice can help bring a diverse community together to love and support each other.
---
I've requested Rebels Like Us by Liz Reinhardt a long time ago, but it's still pending…
"It's not like I never thought about being mixed race. I guess it was just that, in Brooklyn, everyone was competing to be exotic or surprising. By comparison, I was boring, seriously. Really boring."

Culture shock knocks city girl Agnes "Nes" Murphy-Pujols off-kilter when she's transplanted mid–senior year from Brooklyn to a small Southern town after her mother's relationship with a coworker self-destructs. On top of the move, Nes is nursing a broken heart and severe homesickness, so her plan is simple: keep her head down, graduate and get out. Too bad that flies out the window on day one, when she opens her smart mouth and pits herself against the school's reigning belle and the principal.

Her rebellious streak attracts the attention of local golden boy Doyle Rahn, who teaches Nes the ropes at Ebenezer. As her friendship with Doyle sizzles into something more, Nes discovers the town she's learning to like has an insidious undercurrent of racism. The color of her skin was never something she thought about in Brooklyn, but after a frightening traffic stop on an isolated road, Nes starts to see signs everywhere — including at her own high school where, she learns, they hold proms. Two of them. One black, one white.

Nes and Doyle band together with a ragtag team of classmates to plan an alternate prom. But when a lit cross is left burning in Nes's yard, the alterna-prommers realize that bucking tradition comes at a price. Maybe, though, that makes taking a stand more important than anything.
---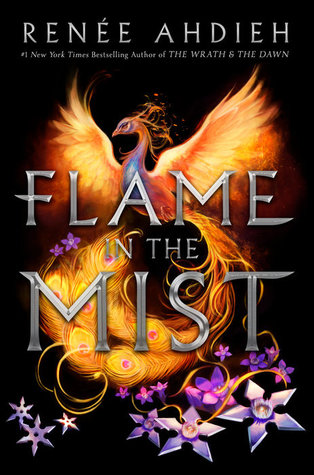 Flame in the Mist by Renée Ahdieh I'm sure I won't get, but hey, I requested it… 😀
The daughter of a prominent samurai, Mariko has long known her place — she may be an accomplished alchemist, whose cunning rivals that of her brother Kenshin, but because she is not a boy, her future has always been out of her hands. At just seventeen years old, Mariko is promised to Minamoto Raiden, the son of the emperor's favorite consort — a political marriage that will elevate her family's standing. But en route to the imperial city of Inako, Mariko narrowly escapes a bloody ambush by a dangerous gang of bandits known as the Black Clan, who she learns has been hired to kill her before she reaches the palace.

Dressed as a peasant boy, Mariko sets out to infiltrate the ranks of the Black Clan, determined to track down the person responsible for the target on her back. But she's quickly captured and taken to the Black Clan's secret hideout, where she meets their leader, the rebel ronin Takeda Ranmaru, and his second-in-command, his best friend Okami. Still believing her to be a boy, Ranmaru and Okami eventually warm to Mariko, impressed by her intellect and ingenuity. As Mariko gets closer to the Black Clan, she uncovers a dark history of secrets, of betrayal and murder, which will force her to question everything she's ever known.
---
So, tell me guys, did you request any of these titles?
Were you approved? denied? Also pending? Talk to me 😀