From the multi-award-winning author of Aristotle and Dante Discover the Secrets of the Universe comes a gorgeous new story about love, identity, and families lost and found.

Sal used to know his place with his adoptive gay father, their loving Mexican-American family, and his best friend, Samantha. But it's senior year, and suddenly Sal is throwing punches, questioning everything, and realizing he no longer knows himself. If Sal's not who he thought he was, who is he? This humor-infused, warmly humane look at universal questions of belonging is a triumph.
---
You know when you request a book on Netgalley and you're so sure you'll be denied for it? Yeah… After reading and loving Aristotle and Dante Discover the Secrets of the Universe, I was pretty damn excited to be able to read an ARC of the new Benjamin Alire Sáenz book, The Inexplicable Logic of My Life.
The first thing that stood out for me on this book, were the chapters. This book consists of short (and some longer) scenes, and each of these scenes are basically chapters. They are each an important moment between the characters. And the titles describe what we're about to read, like this:
I absolutely loved this formating and the way the story was told. I was reading this when I was also reading A Boy Like You and the chapter's lenght couldn't have been more different, eheh. I really really liked these short and very on point chapters. It made the book go super fast for me.
The second thing to note is that the writing is just magical. MAGICAL!!! I had loved Ari and Dante's writing, but I fell in love with the writing on this book.
This book is purely character driven, which are my favorite kind, to be honest, and it deals with love and family and friendship. And loss and how to deal with it. How to confront fears. The feeling of belonging somewhere or to someone. And what weights more, nature or nurture.
The story is mostly about Salvador and his two friends, Sam, who has been his best friend since he was little, and Fito. All of them go through some pretty heavy stuff during the book, and they're all so different, it warmed my heart the depth of their love for one another. They also grow up so much during the book, and they support each other through it all.
I really liked the Sal, Sam and Fito and the relationships they shared. They each had their own personality and quirks, and they tried to make each other better.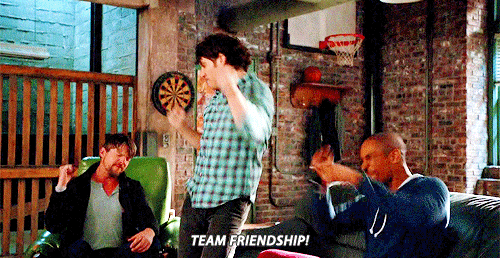 Also, it should be noted that there's no romance in this book, at least not with our 3 main characters, and that was a relief, because I truly thought that there would be, and it wouldn't feel natural.
But I think that my favorite person in this book was Vicente, Sal's adoptive dad and a father figure to all the teens. He was just such a great person, who tried to show the best ways to the kids, but never impose his view, and instead let them reach their own conclusions. He was also always there for all of them, and he had a special bond with each of them. I loved him!
I have to mention that I saw a few critiques to this book, mainly to the use of some expressions used, either ableists or heavy on the stereotypes. I saw them. But I have to say that they didn't feel out of place to me, and I felt that there was a narrative in the story, with the growth of the characters, that pulled them away from such narrow minded views.
Well… I loved this book, I think I even liked it more than Ari and Dante. I loved the writing and the characters. I loved the story and the growth. I loved that it made me cry like a baby each time I read more than two sentences.
I would highly recommend it, from my experience reading.
But if you're in doubt, maybe check out some other reviews and see how you feel about the problematic aspects that those reviews point out.