Ambrose Young was beautiful. The kind of beautiful that graced the covers of romance novels, and Fern Taylor would know. She'd been reading them since she was thirteen. But maybe because he was so beautiful he was never someone Fern thought she could have . . . until he wasn't beautiful anymore.

Making Faces is the story of a small town where five young men go off to war, and only one comes back. It is the story of loss. Collective loss, individual loss, loss of beauty, loss of life, loss of identity. It is the tale of one girl's love for a broken boy, and a wounded warrior's love for an unremarkable girl. This is a story of friendship that overcomes heartache, heroism that defies the common definitions, and a modern tale of Beauty and the Beast, where we discover that there is a little beauty and a little beast in all of us.
---
Oh wow… talk about emotional ride! I started reading this book at work, but I'm glad I decided it to finish it at night, alone, completely alone. Because the kind of crying that was going on there, was the kind that's not remotely cute. Ugly cry!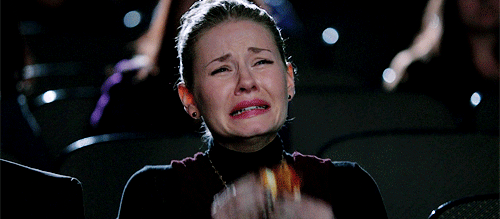 Also, while this book is a romance, I wanted to explain why I chose to use it for the "Book About Friendship" category on the #NAReads2017 bookish bingo. While Making Faces primarily focus on Fern and Ambrose and their romance, what shaped said romance and their lives, for that matter, are the friendships they each have throughout their lives. So I thought this category fit perfectly with this book.
First of all, I need to talk about the writing of this book. This was definitly a very unique book in the way it's written and formatted. Amy Harmon wrote this book in the third person, but there are no specific points of view, instead she gives access to the feelings and thoughts of several of the people involved in a certain scene, which is so different, and it gave me the ability to connect and get to know all the characters so very well, even the secondary ones who didn't appear that much. But because I knew what they were thinking and how something was affecting them, I was able to connect much better to all of them. And if there's one thing wonderful about this book besides the writing, it is the wonderful characters.
Then the story is told throughout several years, but there are a few time periods more important than others. The first significant one is when Fern, Ambrose, Rita and Bailey are 10, and we get glimpses of a lot of important things that happened back then. The second important time period is their senior year of high school, 2001/02, and the events that followed. The third, and most relevant portion of the story takes place after Ambrose returns from the war. We get to see these characters grow through several years, trials and tribulations. I loved the way this story was told. Be warned though, that the story is not told in completely linear form, but it totally worked for me.
This is a very character driven story, and the characters are amazing. Fern is a selfless girl, genuinely good, who lives to make other people happy. But even though she's shy and very self conscious, she faces her fears. I was in awe with this girl, from the very start of the book. She looks at the world in such a beautiful way, that it warmed my heart. Yes, she has been in love with Ambrose all her life, but it was never about how beautiful he was on the outside, but what he had inside, the way he treated people and carried himself. The way he loved his father and his friends and his coach. The way he loved Shakespeare and valued people. She goes through such an amazing transformation through the years, but she's always very true to herself and the people she loves.
Ambrose was also amazing, he was fierce and protective. He changed so much though… When he was in school he was seen as a hero, everyone admired him and put their hopes and dreams on him, and he felt pressured and unsure. Wrestling stopped being about him and the sport and about everyone's expectations and he was lonely. So he decided to enlist, to fight for his country, and he convinced his 4 best friends to join him, a decision that brought him so much grief and guilt… It impossible not to love and understand Ambrose throughout this book, especially when he feels he lost everything that made HIM.
Bailey was such an expected character who totally stole the "show" for me. Bailey has Duchenne muscular dystrophy and from a very young life had a perfect understanding of his condition and his limitations. But he refused to let himself be defined by it. He was such a strong young man, who spoke his mind, and made everyone around him think and rethink things. He defied expectations and misconceptions. He loved wholeheartedly. And he's my favorite.
The way the lives of the characters intertwine is amazing. Bailey and Fern help Ambrose see that he still has a beautiful and full life to live. Fern and Ambrose help Bailey live his life to the fullest. And both boys protect and take care of Fern, until she see herself as they do. Beautiful.
The messages of this book are beautiful, but the most important one is that beauty has more to do with what's inside, than on the outside. And this is something all 3 main characters struggle with, especially Fern and Ambrose.
The writing is gorgeous, the characters are beautiful, and so is the story. I honestly don't understand how is it possible that not everyone has read this book yet, because it is simply amazing, and I want everyone to pick it up and READ IT! NOW. You won't be sorry! Just make sure to have tissues with you at all times, ok?