Hey guys! We're halfway through the year, which means it's time for the Mid-Year Freak Out Book Tag again, eheh! Check here the previous editions, 2015 and 2016.
---
BEST BOOK YOU'VE READ YET IN 2017
This one is hard this year, but I think Making Faces by Amy Harmon has definitly won my heart. This book was gorgeous and amazing, and I just sobbed like a baby, and stayed up until 5 a.m. to finish it, while crying my eyes out.
---
BEST SEQUEL YOU'VE READ SO FAR IN 2016
A sequel that truly took me by surprise was What I Need by J. Daniels. I really liked the whole series, but this book was just amazeballs. I couldn't get enough of it.
---
NEW RELEASE YOU HAVEN'T READ YET BUT WANT TO
Oh boy, so many. But I truly want to get to When It's Real by Erin Watt soon, because I loved The Royals, and I need to read more of this collaboration.
---
MOST ANTICIPATED RELEASE FOR THE SECOND HALF OF THE YEAR
No many! Fallen Heir by Erin Watt, Brooklynaire (Brooklyn Bruisers, #4) by Sarina Bowen Bountiful (True North, #4) by Sarina Bowen, WAGs #3 by Sarina and Elle Kennedy, Twisted Twosome by Meghan Quinn, The Chase by Elle Kennedy, LEGS by Kelly Siskind, …
---
BIGGE

ST DISAPPOINT

MENT
I had high hopes for Undeclared (Burnham College #2) by Julianna Keyes, because I had loved the first book so much. Unfortunately, this book was just not what I expected and it didn't work for me.
---
BIGG

EST SUR

PRISE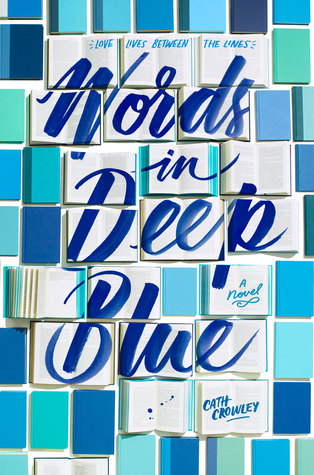 One of my biggest surprises this year so far was Words in Deep Blue by Cath Crowley, I absolutely loved this book, and I wasn't quite expecting to love it as much as I did. You should all grab a copy of it, and start reading it today!
---
FAVORITE NEW AUTHOR




Hmmm. Jen Wilde? Cath Crowley? Krista and Becca Ritchie? Amy Harmon? … so many…
---
NEWEST FICTIONAL CRUSH
Again, so many, especially because I read so many romances, eheh. Either way, I think I'm going with Blake Riley, from Good Boy, because this guy is just amazing, almost too much. And so darn hilarious.
---
NEWEST FAVORITE CHARACTER
I still haven't finished Trust by Kylie Scott, but I'm going with Edie for my new favorite character. This girl is all kinds of awesome. She's insecure, and snarky and fun, and so herself. I love her.
---
BOOK THAT MADE YOU CRY
Nothing made me cry quite like Making Faces by Amy Harmon. I never cried so much while reading a book.
---
BOOK THAT MADE YOU HAPPY
Queens of Geek by Jen Wilde made me beyond happy. This book was AMAZING! Everyone should read it now!
---
FAVORITE BOOK TO FILM ADAPTATION
Hmmm, I think I only saw one book to film adaptation this year, and it was Everything, Everything, and I do think the movie was very well achieved.
---
FAVORITE POST YOU HAVE DONE THIS YEAR
I'm skipping this one. I have to admit that I've been a bit down about blogging. I haven't been posting as much, and I haven't done a discussion in ages…
---
MOST BEAUTIFUL BOOK YOU'VE BOUGHT THIS YEAR
Definitely Norse Mythology by Neil Gaiman. This cover is GORGEOUS!
---
WHAT BOOKS DO YOU NEED TO READ BY THE END OF THE YEAR
I want to read Nimona by Noelle Stevenson pretty soon. I have it on my night stand taunting me. I also really want to read With Every Heartbeat (Forbidden Men #4) by Linda Kage, because I've been loving this series, and I really need more of it. Another book on my future TBR is Full Tilt (Full Tilt #1) by Emma Scott, because I loved one other book by this author, and I've heard good things about this one.
---
I tag

EVERYONE

who wants to do this tag, because I need to know how you are all doing so far this reading year 🙂 .