Yuri!!! On Ice is not exactly news to most of you, right? After seeing it everywhere since the end of last year, I finally decided to watch it, and OH MY GOD! I devoured the episodes!!! It's just so good! 😀
The show centers on Yuri, a japanese figure skater, who after not coping well in his last competition, decides to quit the sport, until one of his videos is leaked, and Russian Champion, Victor decides to take a break from his skating career to coach Yuri.
Unlike Cátia @The Girl Who Read Too, I'm not a die hard fan of figure skating, I appreciate the beauty and that's it, so that's not really what fascinated me the most about this show, though it's still pretty amazing. No, what got me going were the amazing characters and the great relationships.
This show focus mainly on the Yuri and Victor's journey through the ISU Grand Prix, and how much they both grow and learn about themselves. But it also shows the story and evolution of all of Yuri's competitors. I thought there was going to be some sort of bitchy behaviour and some of them would be jerks, but that was surprisingly not true at all. The guys are so respectful of each other, and are genuinely good natured and I just really liked that.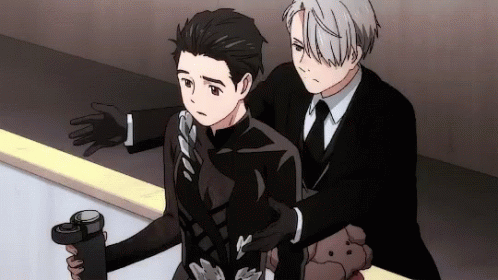 The humour is so on point – and highly sexual – and those moments between Victor and Yuri? MAGICAL!!!
And I love Yurio! I love him so much 😀 .
I now want the second season, because those 12 episodes? They definitly were not enough!
So guys, have you seen Yuri? Are you also obsessed with it?