My first post was about my latest approvals on Netgalley that made me feel accomplished. But we all know that denials are a part of life on the site. One third of my NG requests resulted in being denied, and this especially true in the YA category. And I'm not even going to talk about Edelweiss, because I never get approved for anything there.
So, check out some of the books I was denied access recently, which made me super sad, but I still want to read them all.
---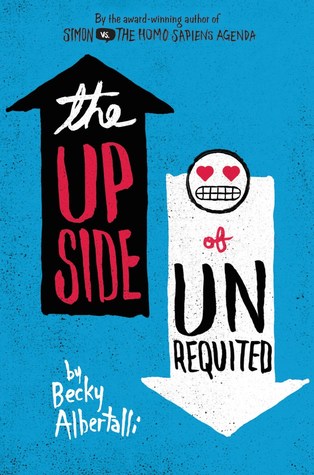 I knew I was going to be denied for The Upside of Unrequited by Becky Albertalli, but it still hurt a little bit, eheh.
Seventeen-year-old Molly Peskin-Suso knows all about unrequited love. No matter how many times her twin sister, Cassie, tells her to woman up, Molly can't stomach the idea of rejection. So she's careful. Fat girls always have to be careful.

Then a cute new girl enters Cassie's orbit, and for the first time ever, Molly's cynical twin is a lovesick mess. Meanwhile, Molly's totally not dying of loneliness —except for the part where she is. Luckily, Cassie's new girlfriend comes with a cute hipster-boy sidekick. If Molly can win him over, she'll get her first kiss and she'll get her twin back.

There's only one problem: Molly's coworker, Reid. He's a chubby Tolkien superfan with a season pass to the Ren Faire, and there's absolutely no way Molly could fall for him. 

Right?
---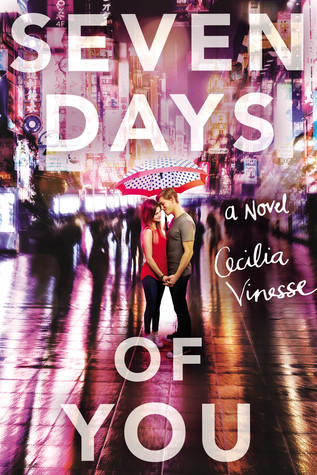 Seven Days of You by Cecilia Vinesse has such an interesting blurb… that's why I requested it TWICE! And was denied… TWICE!
Sophia has seven days left in Tokyo before she moves back to the States. Seven days to say good-bye to the electric city, her wild best friend, and the boy she's harbored a semi-secret crush on for years. Seven perfect days…until Jamie Foster-Collins moves back to Japan and ruins everything. 

Jamie and Sophia have a history of heartbreak, and the last thing Sophia wants is for him to steal her leaving thunder with his stupid arriving thunder. Yet as the week counts down, the relationships she thought were stable begin to explode around her. And Jamie is the one who helps her pick up the pieces. Sophia is forced to admit she may have misjudged Jamie, but can their seven short days of Tokyo adventures end in anything but good-bye?
---
Built on Bones by Brenna Hassett is the only one on this list that isn't YA. This is actually non-fiction and I want it so bad, because it relates in part with my PhD and field of study. So… I might be persistent and write to Bloomsbury USA and beg for it.
Humans and their immediate ancestors were successful hunter-gatherers for hundreds of thousands of years, but in the last fifteen thousand years humans have gone from finding food to farming it, from seasonal camps to sprawling cities, from a few people to hordes. Drawing on her own fieldwork in the Mediterranean, Africa, Asia, and beyond, archeologist Brenna Hassett explores the long history of urbanization through revolutionary changes written into the bones of the people who lived it.

For every major new lifestyle, another way of dying appeared. From the "cradle of civilization" in the ancient Near East to the dawn of agriculture on the American plains, skeletal remains and fossil teeth show evidence of shorter lives, rotten teeth, and growth interrupted. The scarring on human skeletons reveals that getting too close to animals had some terrible consequences, but so did getting too close to too many other people.

Each chapter of Built on Bones moves forward in time, discussing in depth humanity's great urban experiment. Hassett explains the diseases, plagues, epidemics, and physical dangers we have unwittingly unleashed upon ourselves throughout the urban past–and, as the world becomes increasingly urbanized, what the future holds for us. In a time when "Paleo" lifestyles are trendy and so many of us feel the pain of the city daily grind, this book asks the critical question: Was it worth it?
---
I'm so sad that I wasn't approved for Alex, Approximately by Jenn Bennett. I loved her previous book, and I was so excited when I saw this one on Netgalley… oh well… This was another book that I'm pretty sure I was denied to because of the country restrictions.
In this delightfully charming teen spin on You've Got Mail, the one guy Bailey Rydell can't stand is actually the boy of her dreams — she just doesn't know it yet.

Classic movie buff Bailey "Mink" Rydell has spent months crushing on a witty film geek she only knows online by "Alex." Two coasts separate the teens until Bailey moves in with her dad, who lives in the same California surfing town as her online crush.

Faced with doubts (what if he's a creep in real life — or worse?), Bailey doesn't tell Alex she's moved to his hometown. Or that she's landed a job at the local tourist-trap museum. Or that she's being heckled daily by the irritatingly hot museum security guard, Porter Roth — a.k.a. her new arch-nemesis. But life is whole lot messier than the movies, especially when Bailey discovers that tricky fine line between hate, love, and whatever-it-is she's starting to feel for Porter.

And as the summer months go by, Bailey must choose whether to cling to a dreamy online fantasy in Alex or take a risk on an imperfect reality with Porter. The choice is both simpler and more complicated than she realizes, because Porter Roth is hiding a secret of his own: Porter is Alex…Approximately.
---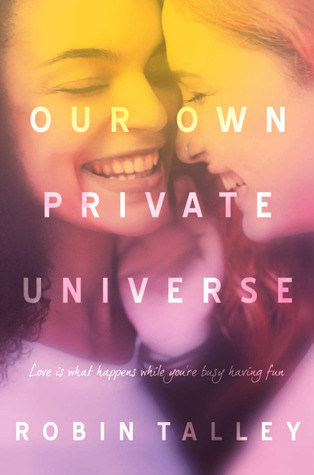 Our Own Private Universe by Robin Talley… funny thing… I've requested this book 3 times already on Netgalley. Yeah… and guess what? It keeps getting denied 😦 . It makes me so sad.
Fifteen-year-old Aki Simon has a theory. And it's mostly about sex.

No, it isn't that kind of theory. Aki already knows she's bisexual — even if, until now, it's mostly been in the hypothetical sense. Aki has dated only guys so far, and her best friend, Lori, is the only person who knows she likes girls, too.

Actually, Aki's theory is that she's got only one shot at living an interesting life — and that means she's got to stop sitting around and thinking so much. It's time for her to actually do something. Or at least try.

So when Aki and Lori set off on a church youth-group trip to a small Mexican town for the summer and Aki meets Christa — slightly older, far more experienced — it seems her theory is prime for the testing.

But it's not going to be easy. For one thing, how exactly do two girls have sex, anyway? And more important, how can you tell if you're in love? It's going to be a summer of testing theories—and the result may just be love.
---
I was super excited about Aftercare Instructions by Bonnie Pipkin, but again… DENIED!!! 😦
"Troubled." That's seventeen-year-old Genesis according to her small New Jersey town. She finds refuge and stability in her relationship with her boyfriend, Peter—until he abandons her at a Planned Parenthood clinic during their appointment to terminate an unwanted pregnancy. The betrayal causes Gen to question everything.

As Gen pushes herself forward to find her new identity without Peter, she must also confront her most painful memories. Through the lens of an ongoing four act play within the novel, the fantasy of their undying love unravels line by line, scene by scene. Digging deeper into her past while exploring the underground theater world of New York City, she rediscovers a long-forgotten dream. But it's when Gen lets go of her history, the one she thinks she knows, that she's finally able to embrace the complicated, chaotic true story of her life, and take center stage.

This powerfully immersive and format-crushing debut follows Gen from dorm rooms to diners to house parties to auditions—and ultimately, right into readers' hearts.
---
So, tell me guys, did you request any of these titles?
Were you approved? Or also denied? Talk to me 😀