Welcome to another Tuesday, which means another Top Ten Tuesday, a weekly meme hosted by The Broke and the Bookish. This week's theme is a FREEBIE! It might sound easy, but nope, not really! lol. After reading a few struggles on twitter about this week's theme (this is partly your fault Jesse – go check out his post! 😛 ), and still suffering from a huge book hangover due to Ignite Me – where I totally blame the sexy scenes, I decided to make today's theme: Hot and Steamy Scenes, whether it was a hot steamy kiss, something more or something considerably less… words can go a long way!
Fair warning, the passages might be graphic! And there will be SPOILERS! If you are not comfortable with steamy scenes from some YA books, turn away! And if you haven't read these books and don't want to know anything, again, turn away!!! You have been warned! 😉
---
1. Warner & Juliette – Unravel Me
I mentioned above how I'm still suffering from a huge book hangover thanks to Ignite Me, right? Unravel Me is to be blamed as well. How else start this list, if not with the wonderful chapter 62 from Unravel Me? If you read the book, you know what I'm talking about… This WILL NOT be their only entry on this list…
2. Tamlin & Feyre – A Court of Thorns and Roses
This book is all kinds of hot. There are 3 scenes that I totally needed to fan myself to get over, and I'll mention 2 of them on this list, but the first one is the hall scene…
3.  Warner & Juliette – Ignite Me
Let's be honest, for the last 25% of the book they can't keep their hands off each other, and it's cute and hot and OMG…. but that moment!!! WOW! Does Tahereh Mafi know how to write sexy scenes or what?! I'm not going to put the whole scene here, because it's amazing and you should READ IT! I know it almost by heart now, from the countless times that I read it…
4. Jace & Clary – City of Fallen Angels
Jace and Clary have some pretty steamy throughout the 6 books, a favorite of mine is the one outside the manor, yeah, when they still believe they're brother and sister… moving on… my second favorite is in City of Fallen Angels, in the alley…
5. Tessa & Jem –

Cloc

kwork Prince
Let's never ever forget that the first time that Tessa and Jem kissed, they almost slept together. It took Will a lot more to get there 😉 (but then poor Jem had to wait even longer). Still, this scene took my breath away, and I loved every second of it.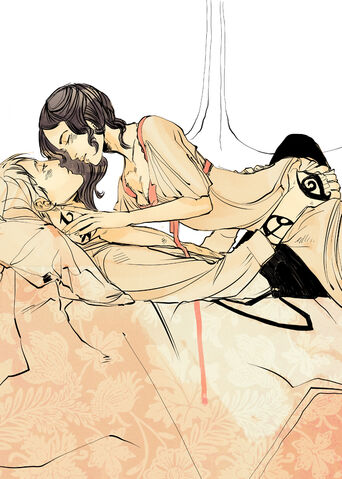 6. Shazi & Khalid – The Wrath & The Dawn
Shahrzad and Khalid's first kiss is hot hot hot and epic. I'll even mention the fact that this is their first truly intimate moment, even after they had slept together twice. It's so so beautiful!
7. TAMLIN & FEYRE – A COURT OF THORNS AND ROSES
Ok, so as I said before, Tamlin and Feyre have some hot scenes on this book, but the actual sex scene actually made me blush so much that I was truly aware that it shouldn't be read on the train…
8. Laia & Elias – An

Ember in

the Ashes
I've said it before, I love Laia and Elias together, and I can't wait for the next book, when they definitely have to spend some more time in each other's company… Still, the one time they were all alone, it was pretty hot, right?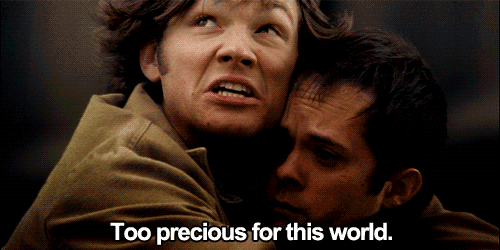 9. Will & Tessa – Cl

ockwork Pr

ince
Clockwork Prince was a busy book for Tessa! She rolled around in bed with Jem, and then had a very steamy make out session with Will, on the Lightwood's balcony in the middle of a party, under the effect of some mood altering drugs… it was still a pretty great scene!
10.

Magnus & Alec – 

The Course

of True Love (and First Dates)
There are so many damn couples in the Shadowhunter's world, that it's hard to move away from it. I love Magnus and Alec, they're my favorite couple in The Mortal Instruments, and their first date is just hilarious! But it's also super sweet and you should totally read it, if you haven't already. (I mean, Alec falls down the stairs…)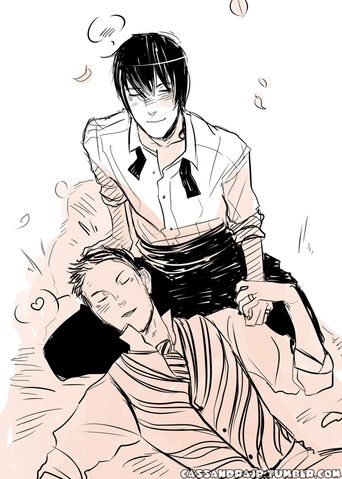 Special Mention – Tessa & Jem  – After the Bridge
I would be remiss if I didn't mention this story, first because it's Jem and Tessa, secondly, because the whole story is pretty hot, steamy and emotional. Have you read After the Bridge? If not, you can find it here. Let's just say that while Will always had the fame, Jem was a complete surprise…