Hello, welcome back to another Book Traveling
Thursdays, which a weekly meme created by Cátia @The Girl Who Read Too Much and Danielle @Danielle's Book Blog. The goal is to share the covers of a book related to that week's theme, which you can see at the Goodreads group, indicating the original cover, the one of your country, your favorite and least favorite.
This week's theme is "New Year, New You! Choose a book that inspires you". This week's theme is not easy, that's why I decided to go with the literal way of inspiring, and I could only think of one book: The Seven Daughters of Eve by Bryan Sykes, which is a non-fiction book about how we can trace everyone's origin to one single "woman" in Africa, and from 7 lines that derived from her.  It was the book that got me interest in Genetic anthropology, and the potential of mitochondrial DNA, which is mostly what I do now.
---
Original 

COver

:
I actually like the original cover – please keep in mind that this is a non fiction scientific book, not many of those have appealing covers.
COVER F

ROM MY COU

NTRY (PORTUGAL) & COVER FROM THE COUNTRY I LIVE IN (SPAIN):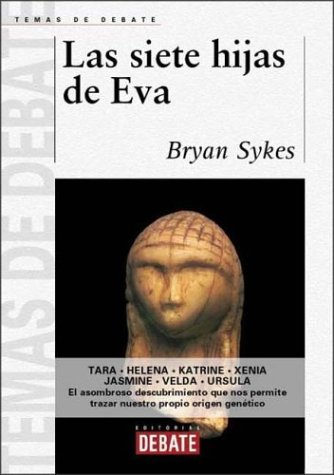 I own the purple portuguese cover, and let's face it, it is not pretty!!! But the spanish cover is way worse, right?
Favorite COVER(s):
I bought an english copy of this book last year while in Oxford (it seemed appropriate), and it came with this gorgeous cover :D.
LEAST FAVORITE COVER(s):
Now, most of the covers for this book are not really great, but the Czech, Dutch, Turkish and Arabic take the prize. They are just too awful to even contemplate, and the Dutch and Arabic cover make it seem like it's some sort of contemporary book… no no no no