The only daughter of a prominent samurai, Mariko has always known she'd been raised for one purpose and one purpose only: to marry. Never mind her cunning, which rivals that of her twin brother, Kenshin, or her skills as an accomplished alchemist. Since Mariko was not born a boy, her fate was sealed the moment she drew her first breath.

So, at just seventeen years old, Mariko is sent to the imperial palace to meet her betrothed, a man she did not choose, for the very first time. But the journey is cut short when Mariko's convoy is viciously attacked by the Black Clan, a dangerous group of bandits who've been hired to kill Mariko before she reaches the palace.

The lone survivor, Mariko narrowly escapes to the woods, where she plots her revenge. Dressed as a peasant boy, she sets out to infiltrate the Black Clan and hunt down those responsible for the target on her back. Once she's within their ranks, though, Mariko finds for the first time she's appreciated for her intellect and abilities. She even finds herself falling in love — a love that will force her to question everything she's ever known about her family, her purpose, and her deepest desires.
---
I'm so glad I was approved for this book on Netgalley! I loved The Wrath and the Dawn duology, so even though I wasn't quite sure what to expect from this one, I knew the writing would be fantastic, and I was so right about that.
This book is told through several perspectives, but the main one is definitly Mariko's perspective. As this was an ARC, I found it confusing when the POVs changed, because I had no indication or tab letting me know that the change was happening. Still, Ahdieh did a great job with the different voices, even though the book is told in the third person.
I will admit that it took me a little bit to really get into this story, because I found the beginning of the book sort of slow, and I'm still slightly confused about some of the events of this book. With that said, I did fall in love with the story pretty easily, and I honestly just needed the second book STAT, so my questions would be answered right away. Seriously guys, I need to know some things urgently.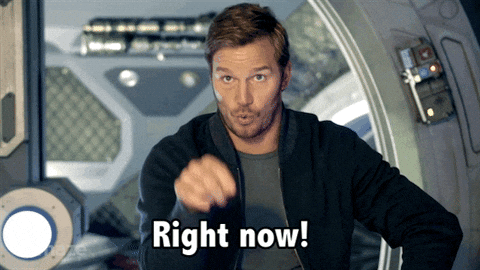 The characters are amazing, I loved Mariko and her strength and determination, and how much she grew to accept herself through this book. Okami and all the Black Can were such a nice surprise. And Yumi! I love Yumi and I want to see much more of her in the following books. Some characters surprised me in a positive way, while I'm still on the fence about some of them, but I do have high hopes for Kenshin.
There were so many twists, and the one thing that bothered me was the lack of answers. This is a book that clearly does not stand on its own, and the second one will be imperative to answer some MAJOR things in the plot, so yeah… I need book 2. The romance is sweet and amazing, and it doesn't take away from the story, it adds to it. There is such a great amount of respect between the two, and I'm a fan, I SHIP IT!
Guys, if you haven't read this one yet, do it now.


It's detailed and intricate and beautiful, with a kick-ass Japanese girl as the main character.


Also, you know this is sort of based on Mulan, right? So, read it.