A few days back Casey @Inspired By The Page tagged me to do this Totally Didn't Book Tag. It took me a few days, but I'm finally doing it 😉 . This tag was originally created by ReadLikeWildFire, and you can find her original video here.
1. Totally didn't need to have a sequel/sequels.
This is really hard… I love series, and I usually don't start a series until some or most of the books are published and have good reviews (lol). If I had to name a sequel that necessarily didn't have to happen for the story to be good, I would say maybe P.S. I Still Love You, sequel to To All The Boys I've Loved Before from Jenny Han. I really liked the book, and I actually could read more about Lara Jean and her boys, but it kind of didn't need to happen for the story to make sense (though I'm seriously glad it did!).
2. Totally didn't need to have more than one point of view.
Breaking Dawn (Twilight Saga). It's the only one that comes to mind! I didn't like Jacob's POV, honestly I never much cared for Jacob in the books, and I get that his POV was somewhat necessary not only for us to be aware of Bella's decay, but also to have the pack's side of the story, but it was super hard to get into his POV after 3 and ½ books with Bella's voice.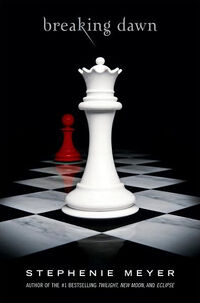 3. Totally didn't need to change cover art through the middle of a series.
So far I never suffered this problem… mainly because I mainly buy the series/trilogies when they are complete, or close to that.
4. Totally didn't need a love triangle.
I'm going to Twilight again! I mean, who actually believed that Jacob stood a chance? Never, ever, ever.
5. Totally didn't need this book to be included in this series.
I don't know… whenever I started a series, most of the books were out already, so I ended up reading them back to back, making it kind of hard to distinguish the events of each book.
6. Totally didn't need a cliffhanger.
I couldn't actually remember anyone, but then I saw somewhere about Clockwork Prince, and I was like "oh, yeah!". That cliffhanger totally didn't need to happen!!! Cecily showing up at the institute's door… but it didn't actually bother me, because I just picked up Clockwork Princess and kept reading 🙂 .
7. Totally didn't need to have just one point of view.
Hmmmm, there's not a thing wrong with the books I'm about to mention, but I would have liked to read some POV from Cal from Red Queen and from Peeta from The Hunger Games. But it's more wish fulfillment than actually anything lacking in the books.
8. Totally didn't need that much hype.
The Maze Runner. I only read the first book, though I WILL read the rest of the series, but through all the hype surrounding it and the movie that was about to come out, I thought it ought to be way more than it was. Don't get me wrong, the book is OK, just not super spectacular.
9. Totally didn't need a relative book reference. (Eg, For example: Hunger Games fan would love Divergent.)
Red Queen… I mean, "A thrilling new fantasy trilogy for fans of DIVERGENT and THE HUNGER GAMES."… it didn't need any of that, and also, why not put "for fans of X-Men"?
10. Totally didn't deserve my time.
This one is hard, when all is said and done, I think that every book deserves the time we give to them, I always learn something.
---
I will tag:
Hope you have fun with this tag, i found it much harder than I initially thought… and even if you're not tagged and you want to do it, just go ahead and link back so I can read your answers 🙂