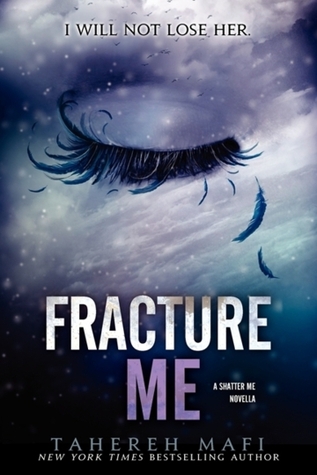 In this electrifying sixty-page companion novella to the New York Times bestselling Shatter Me series, discover the fate of the Omega Point rebels as they go up against The Reestablishment. Set during and soon after the final moments of Unravel Me, Fracture Me is told from Adam's perspective.

As Omega Point prepares to launch an all-out assault on The Reestablishment soldiers stationed in Sector 45, Adam's focus couldn't be further from the upcoming battle. He's reeling from his breakup with Juliette, scared for his best friend's life, and as concerned as ever for his brother James's safety. And just as Adam begins to wonder if this life is really for him, the alarms sound. It's time for war.

On the battlefield, it seems like the odds are in their favor—but taking down Warner, Adam's newly discovered half brother, won't be that easy. The Reestablishment can't tolerate a rebellion, and they'll do anything to crush the resistance . . . including killing everyone Adam has ever cared about.
---
***** Warning, there will be SPOILERS from this novella as well as for Unravel Me *****
OMG! This novella left me a bit pissed off at Adam (and that was before I read Ignite Me, which left me even more enraged with him).
First things first, although this novella gives a good informative points about what happened after Juliette was taken away to Anderson on Unravel Me, I somehow wished that this had been through Kenji's perspective, because I didn't like Adam's voice. Actually, I thought he was rude and I started to not recognize the person I was reading about.
I actually liked to see a bit of his relationship with James, though I have to say that I feel like Kenji and James have a more brotherly relationship than Adam and James (I  know that it's because Adam sees the kid as his kid, but still). Then I hated his thoughts about Juliette all the while they were heading to battle. He kept thinking how ill-equipped she was to be there, and how she should have stayed back at Omega Point. How broken she was, basically, and that was wrong. This girl can break him in half, she had proven herself before, why was he doubting her?
Still on Juliette, it was so clear that her mind was on Warner… *bless her*… Adam thinking that she was oh so upset about hurting Kenji (even though he had told her that he knew it hadn't been her), and all the while she was fantasizing her previous night with Warner, and his hands, mouth, etc… (I almost felt sorry for Adam in here).
The whole thing about James was beautiful, and I was so glad that the kid was ok. But then Adam's thoughts immediately begin with "I don't want to fight, I just want to be safe", and while that's in part normal, it's so frustrating. And there was Kenji saying how they needed to get the girl Adam LOVES right away, and he was like "there's time, I don't want to leave the safety of this house, I don't want to have to run again so soon, Warner can have her for a while".
I mean, dude!!! You think that she's with a guy that you think is obsessed with her, that can TOUCH her, and you think you have all the time in the world?! DUDE!
Obviously we know that she's not with Warner (yeah, she is, but he's not the one who has her), so when Kenji finds out that Juliette is dead (*cof cof*), Adam breaks. I felt sorry for him, really, he thought it was his fault and all, but honestly I felt much more sorry for Kenji, who was clearly heartbroken.
All and all, I have a lot of mixed feelings about this novella. I like the story, hate the voice, and it made me really pissed off at Adam. I was Team Adam on book 1, I wanted him to be happy, he was so sweet and considering of Juliette and all, but this book made me think that maybe he doesn't actually see the person right in front of him, he sees what he wants to see: a broken girl that he has to protect. I didn't like it at all. Love shouldn't be like that.
Rating: 3.3 Stars